FOR IMMEDIATE RELEASE: Scott DeFilippis
XRCEL® to Sponsor Professional Triathlete and Coach Scott DeFilippis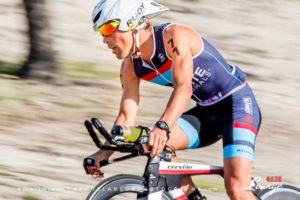 Professional Triathlete, Coach, and Race2Rebuild 2015 Challenge Team Captain joins the XRCEL® team
Charleston, SC (October 22, 2015) – New World Consumer Products, LLC, a division of New World Pharmaceuticals, is pleased to announce that professional triathlete, coach, and Race2Rebuild 2015 Challenge Team Captain, Scott DeFilippis has joined the XRCEL team as a sponsored athlete. Scott will be fueled by XRCEL Athlete Fuel, a cutting-edge sports performance fuel based on New World Pharmaceutical's patented formulation technology, for the balance of the 2015 race season and beyond.
"I am over the moon to be working with such a cutting edge company as XRCEL.  The passion this company has for helping athletes reach their fullest potential is amazing.  I truly believe they are at the forefront of a nutritional breakthrough not only in endurance sports but all sports that require strength, speed, or endurance."
"I am very excited to have Scott on board as the latest member of the XRCEL team", said Laura DeMeo, Business Development Manager – Endurance Sports for Team XRCEL. "Scott is well-known in the triathlon community for not only being a top athlete, but also for being a genuine person who works hard at both racing and giving back to his community. Scott's triathlon talents stem from his family's running and cycling background, which grew into a triathlon career thanks to some great mentors. We know that with Scott's meticulous attention to detail in his training and those he coaches, that he took the time to become knowledgeable in all that XRCEL has to offer endurance athletes. XRCEL is proud of Scott's passion for triathlon, but we are even more proud of him for the community service and causes he donates his time to, including Race2Rebuild. We are thrilled that he has chosen XRCEL as his fuel and look forward to the journey Scott takes as he works to achieve his own goals and dreams".
"We are happy to have Scott, a Jersey Shore native, join our team and to be able to fuel his training and competitions, said Fred Sexton, President and Founder of New World Consumer Products. "As I have said in previous announcements, endurance sports, particularly triathlon, are a core part of our market. Our ability to significantly impact, via our extended release micro-gels, carbohydrate absorption and improve energy conversion potential without the stomach upset that sometimes plagues endurance athletes makes XRCEL a perfect fit for a triathlete. It's great to see top-tier athletes improve their performance when they are using our revolutionary technology".
Scott was born and raised along the Jersey Shore. He fell in love with long distance running in his teens which led him to the University of Tennessee on a cross country and track scholarship. After college, Scott continued to work on his running career while managing his brother's running shop in NJ, Runners High. He succeed at the American elite level lowering his personal best for 10km to 29:12, 1:05:44 for the half marathon, and 2:24 for his debut marathon. In 2008 he caught as he says "a bit of flyer" and was invited to take part in a triathlon training camp under the guidance of legendary coach Brett Sutton. After a few days of camp, Coach Sutton offered Scott a contract to train and race with his squad, Team TBB. Coach Sutton committed three years to his development and at the end of those three years Scott finally began to break through at the professional level of long course triathlon. He has since gone on to achieve multiple podium finishes around the world, running 2:43 for the marathon off the bike at Ironman Switzerland in 2012 and lowering his Iron Distance PB to 8:09 at the 2012 Ironman FL. In 2013 team TBB parted ways with Coach Sutton and Scott decided to work with another legendary coach, Siri Lindley. Siri and Scott have been working together for a year now and in their first season together he was able to earn three top 10 finishes at an Iron distance events in the span of nine weeks including a 3rd place at Ironman Boulder and 2nd place at Challenge Atlantic City.
###
About XRCEL® Athlete Fuel
XRCEL Athlete Fuel is a revolutionary extended release carbohydrate supplement formulated with patented pH and temperature responsive micro-gel technology developed by New World Pharmaceuticals, LLC.  XRCEL is a caffeine and banned substance free supplement designed to provide athletes with extended release muscle and brain fuel so that they may get the most out of their training and competitions.
About New World Consumer Products, LLC
New World Consumer Products is bringing the science of human nutrition and carbohydrate metabolism to high performance athletes with an emerging portfolio of patented products and technologies. Our flagship product, XRCEL ®, is a scientifically advanced sports performance fuel based on patented formulation technology developed by New World Pharmaceuticals, LLC.
With strong investment in the science of performance-based nutrition, guided by a leadership team of executives and university scientists with extensive operating and board-level experience in the pharmaceutical and consumer goods industries, New World Consumer Products will continue to develop breakthrough products that improve performance and endurance for work, play and sport.
The company's corporate headquarters are located in historic Charleston, South Carolina. To learn more, please visit http://www.NewWorldConsumerProducts.com.
About New World Pharmaceuticals, LLC
Founded in 2007, New World Pharmaceuticals, LLC is a privately held specialty pharmaceutical company engaged in the research and development of innovative drug delivery systems that remove or mitigate constraints to taking medications and supplements. The company is specifically focused on the development of oral and intradermal controlled release technologies.
New World Pharmaceuticals has developed and patented temperature and pH responsive micro-gel technology that increases and sustains the oral bioavailability of carbohydrates and certain other BCS Class I, II & III drugs. The company is also developing and has patented novel intelligent intradermal delivery technology for use with both small and large molecules.
New World Pharmaceuticals is based in Charleston, South Carolina. For more information, please visit http://www.NewWorldPharma.com.
For More Information
Media Inquiries:
Lisa Sexton
843.737.6192 Ext 104
Lisa@XRCEL.com