Professional Triathletes and Twin Sisters, Laurel and Rebeccah Wassner join the XRCEL® team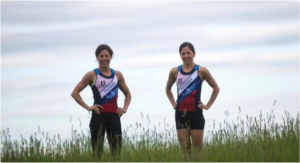 Charleston, SC (September 11, 2015) – New World Consumer Products, LLC, a division of New World Pharmaceuticals, is pleased to announce that the professional triathlete twin sisters Laurel and Rebeccah Wassner have joined the XRCEL team as sponsored athletes. Laurel and Rebeccah will be fueled by XRCEL Athlete Fuel, a cutting-edge sports performance fuel based on New World Pharmaceuticals' patented formulation technology, for the balance of the 2015 race season and beyond.
Laurel and Rebeccah Wassner are professional triathletes living in New York City.  Rebeccah (Bec) is a three-time winner of the New York City Triathlon. Laurel is the first cancer-survivor-turned-professional triathlete and the first cancer survivor to win an Iron distance race.
The twins race to win championships, but also to raise awareness for the fight against cancer, particularly among young adults. The Wassner twins took different paths to being exceptional. In 1998, about a year after her college graduation, Laurel was diagnosed with Hodgkin's lymphoma. She spent the next few years battling fatigue and nausea while recovering her strength and rebuilding her life. Meanwhile, Rebeccah morphed into a professional athlete, competing first in marathons, while still working as a CPA, before turning to triathlons in 2004.
In 2006, watching her sister race against the world's top-ranked athletes at the ITU Elite World Championships, Laurel vowed to one day join her sister on the podium. With the help and support of friends and family, this dream became a reality when Laurel turned pro in 2008…and started chipping away at Rebeccah's lead.
Today, the Wassner twins are not only competitive professionals, but also big influencers on the subject of athlete nutrition. Rebeccah and Laurel are the authors of the well respected and well read blog – Athlete Food http://www.athletefood.com/. Athlete food is a collection of recipes for active people, created by athletes and designed for the inner athlete in all of us.
"Laurel and I are excited to represent such an innovative brand and are confident that the XRCEL formula will power us both on the race course and through our hardest days of training. We're also looking forward to sharing our triathlon and nutrition experiences with the XRCEL community on the XRCEL blog", said Rebeccah.
"Together Laurel and Bec have beat cancer, raced triathlons professionally all around the world, and advised athletes on nutrition through some of the most-read triathlon magazines on the stands today. We are thrilled to announce that the Wassner twins will bring their years of racing experience and personal triumphs to the XRCEL family. After all they have put their bodies through in training and racing, we know they value that XRCEL is scientifically formulated to work with your body, releasing energy generating glucose when your body needs it. XRCEL is proud to provide the Wassner twins with the only athlete fuel that allows the body to work harder and outlast any competition!", said Laura DeMeo, Business Development Manager – Endurance Sports for Team XRCEL.
"The Wassner twins story is pretty amazing and was a major factor in our decision to their being included on the XRCEL team", said Fred Sexton, President and Founder of New World Consumer Products. "Being able to help support Laurel and Bec's quest to raise awareness for the fight against cancer, working with them on helping educate athletes on nutrition, and being able to help support their racing is rewarding on so many levels for us here at XRCEL. These young women, and what they are doing, are just extraordinary."
###
About XRCEL® Athlete Fuel
XRCEL Athlete Fuel is a revolutionary extended release carbohydrate supplement formulated with patented pH and temperature responsive micro-gel technology developed by New World Pharmaceuticals, LLC.  XRCEL is a caffeine and banned substance free supplement designed to provide athletes with extended release muscle and brain fuel so that they may get the most out of their training and competitions.
About New World Consumer Products, LLC
New World Consumer Products is bringing the science of human nutrition and carbohydrate metabolism to high performance athletes with an emerging portfolio of patented products and technologies. Our flagship product, XRCEL ®, is a scientifically advanced sports performance fuel based on patented formulation technology developed by New World Pharmaceuticals, LLC.
With strong investment in the science of performance-based nutrition, guided by a leadership team of executives and university scientists with extensive operating and board-level experience in the pharmaceutical and consumer goods industries, New World Consumer Products will continue to develop breakthrough products that improve performance and endurance for work, play and sport.
The company's corporate headquarters are located in historic Charleston, South Carolina. To learn more, please visit http://www.NewWorldConsumerProducts.com.
About New World Pharmaceuticals, LLC
Founded in 2007, New World Pharmaceuticals, LLC is a privately held specialty pharmaceutical company engaged in the research and development of innovative drug delivery systems that remove or mitigate constraints to taking medications and supplements. The company is specifically focused on the development of oral and intradermal controlled release technologies.
New World Pharmaceuticals has developed and patented temperature and pH responsive micro-gel technology that increases and sustains the oral bioavailability of carbohydrates and certain other BCS Class I, II & III drugs. The company is also developing and has patented novel intelligent intradermal delivery technology for use with both small and large molecules.
New World Pharmaceuticals is based in Charleston, South Carolina. For more information, please visit http://www.NewWorldPharma.com.
For More Information
Media Inquiries:
Lisa Sexton
843.737.6192 Ext 104