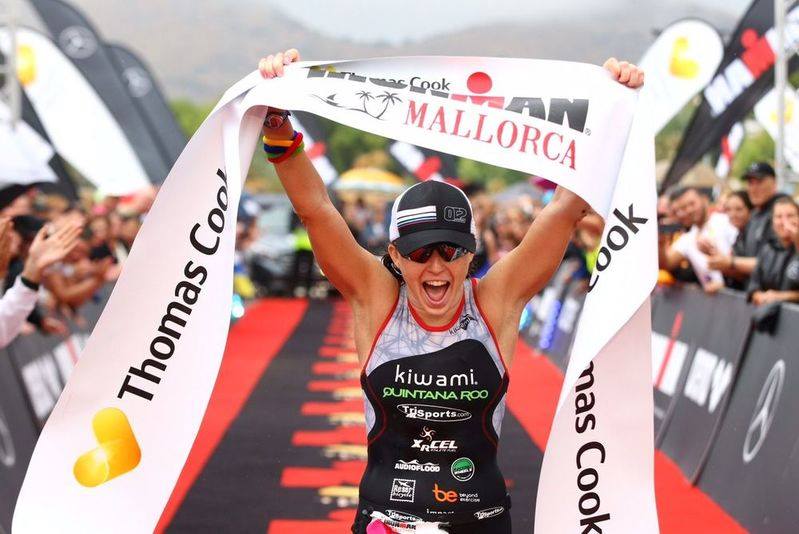 01 Oct

2016 Ironman Mallorca Champion! XRCEL Athlete Joceyln McCauley OutLasts, OutThinks, and OutPerforms the Competition to Set a New Course Record!

Ironman Mallorca Champion and XRCEL sponsored athlete, Joceyln McCauley, gives us an inside look at her amazing journey to victory! From her training and pre-race strategy, to her fueling plan, to how she  gets her strength & inspiration, Jocelyn shares how it all came together to  execute a perfect race and WIN Ironman Mallorca.  Read on and be inspired!

XRCEL: Congrats On your Extraordinary Win at IM Mallorca!  First tell us what factors went into your choosing to race Ironman Mallorca.

JM: First, because of religious reasons I will not race on Sundays. This makes planning my season a little more fun! Second, I had two disappointing races this year. The first was IM New Zealand where I got sick before the race and ended up not finishing. The second was IM Texas where I was running down 5th place and passed out 0.5 miles from the finish, but after being sidelined for a while, I got up and finished 10th.  My plan was to be at Kona this year but my coach and I decided the best idea would be to get in a good race for 2017 points. The choices were IM Mallorca or Malaysia and Mallorca fit better.

XRCEL:  Tell us about your training plan leading up to this race.  Did you prepare differently than in the past?

JM: My training leading up to this race was a little crazy. I ended up parting ways with my awesome coach, David Tilbury-Davis. I had 2 weeks where I was self-coached and then hired Jesse Kropelnicki of QT2   six weeks before the race. So to say that my build was a little disjointed would be an understatement. Even with all that I was able to head to Texas for 10 days for a QT2 pro camp to help me prepare.

XRCEL: What was your Pre- Race strategy going into this race?

JM: This race was all about proper execution and patience. I've had better fitness going into past races, but I wasn't able to properly execute a race to show that fitness. I also always want to have fun, which usually means that I am executing a great race!

XRCEL:  Tell us about your mindset? How did you mentally prepare going into IM Mallorca

JM: I wrote out a race plan and visualized it 2-3 times per day for the 5 days leading up to the race. That is how I acutely mentally prepared for this race, but as every endurance athlete knows, mental strength is developed over a lot of time and effort. There have been some really tough workouts over the last 5-6 months where I had to find strength from some other source than myself. I remember a 4:45 trainer ride I did back in April where I had the XRCEL water bottle in front of me and kept reading the slogan on it "outlast, outperform, outthink." That is where I drew my strength from that workout. There was another workout specifically during my build for Mallorca when I was away from my family and had painted my daughter's and my fingernails pink. I was in the middle of an effort that wasn't going super well and looked down at my nails and thought of my family back at home and the time I am away from them. I need to make the most of that time so I turned my mindset around and went for it.

XRCEL:  You had an incredible race with a finish time of 9:11:55! You not only crushed your personal goal time of 9:25, but you also won by a significant lead of 13 minutes.  Walk us through race day and how you felt, your thoughts, and how you were able to execute an exceptional race to dominate the field and finish strong.. 

JM: Thanks! It was the perfectly executed race!

Since I had mentally walked through the day 15 times before it actually came, I was able to be familiar with every step as I approached it. I always have a theme song for each race and this one was "Don't let me down" by the Chainsmokers. My body had previously "let me down" so it was an ode to my body for the race. I listened to this song as well as two other "sub" theme songs, "Hall of Fame" and "Superheros" by The Script before my warm up in the swim.

The swim was mostly uneventful. I was in the lead pack of women and just stuck in the back of the other three women to avoid the jostling and bumping since I am still healing wounds from my crash three days before the race. I felt like the pace was easy but ended up with a swim PR coming out of the water.

Out on the bike I just broke the 112 miles down into smaller segments. I had previously ridden the course in separate chunks so it was easy to mentally break it down. Around 45 minutes in, I had a mechanical issue with my bike that had me off my bike for 1.5 minutes and left me far behind the two men I was legally riding with.  I was able to see my husband out there and he was giving me splits, it's always so helpful to know what's happening in front of you. I biked into 2nd place before the long climb we had. I had planted "Superheroes" into my head for the climb and had the lyrics "When you've been fighting for it all your life, You've been working every day and night. That's how a superhero learns to fly. Every day, every hour, turn that pain into power." I got to the top and started the descent. At the second switchback a female FLEW past me. I was getting passed by lots of guys during the descent too. My crash on Wednesday before the race left me very timid on these roads. I figured I'd rather go home alive and it cost me 5-8 minutes. About 20-30km to go it started dumping rain on us. There were literal rivers on either side of the street that then turned the street into a river. I was riding the equivalent of a 404/808 on my bike and there were times we were riding through, or across, water that was higher than the depth of my 808 in the back! I was terrified for my life! I saw a couple people go down on turns so I rode more cautiously. It was around 10-15km to go when I moved into 2nd place again.

I was able to see Scott (my husband) through transition and he told me I was 2.5 minutes back from 1st place. The run course was 4.5 loops and had several out and back sections where you could check your distance from other runners. I concentrated on heart rate and broke the run into 4-mile segments. I never looked at, or knew, the pace I was running. At the first out and back section I saw I had already clipped a minute off the 2.5-minute lead. I looked to see how far back the next woman was and it was around 2-3 minutes. This was one of only TWO times I checked to see how far back the next female was from me. After the first loop I could see 1st place and knew I would make the pass. I can't explain the feeling I had making the pass into 1st place. Scott happened to be right there as I made the pass and so it made it even more special. I thought "no matter what happens, I've LED an Ironman!!!" The rest of the marathon was just clipping those miles away. It's amazing how different the length of a mile feels when it's number 1 or 2 versus number 22 or 23. The second time I checked how far back the next woman was, I had about 4-5 miles left. I saw she was 5+ minutes back and knew I had the race won unless I passed out. I just kept concentrating on each aid station and each mile/km. I made the turn to the finish line and ran down my first chute as number 1. I grabbed the finish line banner and just screamed! I had no words to express my feelings! I knew my husband would be there somewhere so I looked around for him and gave him the biggest hug and started crying out of happiness! My husband said it best when he said "many happy and sad tears have gone into this moment."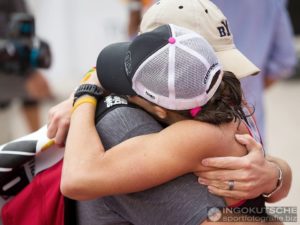 Before the race I have the tradition of writing "Believe" on my left hand, "Calm inner drive to conquer" on my right hand, and "I am a Champion" on the inside of my left hand. So my left hand reads "Believe, I am a Champion." That day, I made that a reality; I am a champion!

XRCEL:  As you know nutrition plays a key role in race performance—and a bad nutrition day can derail anyone's race.  How did you fuel during IM Mallorca/ what was your fuel strategy?
JM: I put XRCEL into my bottles for the bike and add salt to it so I don't have to worry about taking salt in separately. I have said so many times when asked about XRCEL, it is by far the best I have ever felt training and racing! It's amazing! I don't have GI distress and I have the energy delivered to my body when I need it. During my race I took in around 300-500 calories an hour on the bike. XRCEL truly sets you up for a great run off the bike. On the run I did 300+ calories/hour. I really like to listen to my body and figure out what it's telling me it needs.
XRCEL:  You mentioned that fueling with XRCEL, you are able to have that "extra gear" during racing because of the extended release glucose micro-gels.   How did XRCEL help in your race day performance?
JM: XRCEL gave me the confidence in my nutrition to not worry about if it would work out. When you train with the same nutrition you will race with, you have the confidence it will work out and when that nutrition is XRCEL you know that you are getting the best, most efficient nutrition out there. I knew I had the fitness to accomplish the goals I set for this race and with XRCEL I know I don't have to worry about my nutrition being a factor on race day.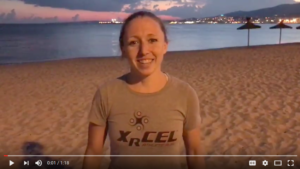 XRCEL:  How did you like the Ironman course (each leg) itself? Was it what you expected?
JM: It was amazing and gorgeous. The swim is in the Balearic Sea which is some of the clearest water I've swam in. It is in a harbor so waves aren't a factor. The bike is hilly with one climb in the back half of the race. I didn't love the rain that we got, but fortunately I was past the technical descent. The run was amazing! There were so many spectators out cheering us on in the rain! I thought there wouldn't be as many people out because of the weather, but there are many places with coverings that people could stand under. I had previewed the course prior to race day so I knew what to expect.
XRCEL:  What (race) is next for you?
JM: My next race is Challenge Mallorca (70.3) October 15th.
XRCEL:  What is your recovery plan to rest and recharge for Challenge Mallorca in less than 3 weeks?
JM: My husband and I took a couple days after the race to go to Barcelona and walked around a ton. Sitting and doing nothing is one of the worst things you can do after an Ironman for recovery. We walked all around the city, did some biking, and swam in the sea. I'm just now getting back into some true training to keep my body sharp for a shorter and faster race.
XRCEL:  What are your expectations and goals going into this race (Challenge Mallorca)?
JM: I know I will be tired from the Ironman but still plan to execute a great race! I will be again focusing on executing a good race plan and I know that if I execute that plan I will race to my potential on the day. I do not have a start list so I have no idea who I will be racing against.
XRCEL:   Do you have any lasting thoughts, comments, and words of wisdom you would like to share about your experience at Ironman Mallorca?
JM: I bought a dress in Kona when I won that race as an age grouper with the intention to wear it when I won my first Ironman. I have traveled with the dress to every race for the last 1.5 years. It felt so good to be able to wear it! We are actually just about to head out to buy a new dress for my next win which hopefully will come in about two weeks from now!
When I left home and my daughter I said that "difficult roads often lead to beautiful destinations." The finish line in Alcudia was my beautiful destination. My daughter and I painted our nails before I left since it always reminds me to believe and have no fear. I want her to see what belief and hard work can accomplish. I want her to see when you believe you are a champion, you can become one.