12 Oct

7 Triathlon Travel Tips from a Veteran Pro

As a veteran of Ironman and Ironman 70.3 racing, I've traveled quite a bit for races and training camps. I'm writing this blog as I pack for my next full Ironman in Taiwan. This will be my 33rd full Ironman and I've probably raced between 40 and 50 Ironman 70.3 races. Add in training camps and I've packed up my gear and bike probably close to 100 times and headed off via trains, planes, and automobiles. Along the way, I've had many great experiences, as well as encountered some challenges. I've had seamless trips, but I've also been stranded in Iceland, and lost in the streets in Japan in the pouring rain with my bike box and all of my bags.

Here I wanted to share with you some thoughts and tips on traveling to your next race. Hopefully some of my experiences can help you the next time you venture away from home.

When possible, travel by car: I've found that if I can drive to a race in 15 hours or less, it's worth hammering out one long road trip day to get to my race rather than flying. Many airlines charge $100-$150 each way to fly your bike. Putting your bike in your car not only will save you $200-300 just on bike fees, you don't have the hassle of disassembling your bike and reassembling it when you get there. With how early we have to arrive at airports now, sometimes a 9 or 10 hour road trip may only take a few hours longer than actually flying.

Do your homework on the location: spending some internet time at home can save you hassle and stress when you arrive. I always find out where I can swim before I arrive. Where is the local pool, when are the lap swim times, etc. Where is it safe to ride my bike? If I'm at a downtown race like Miami or San Juan, Puerto Rico, where can I safely ride my bike. I've actually brought my bike trainer with me to race where I drove because I knew that where I was staying there wasn't a good place to ride my bike nearby.

Keep essential items close to you: nothing is worse than your bags not making it to your final destination. I try to carry a few essential items in my carry-on in case this happens to me (which it has). I carry my running shoes, bike shoes, and race outfit with me. Because those items are really specific to me, they would be hard to replace and break in if my bags were lost. I also carry a journal with my bike measurements, so if my bike gets lost and I can find a loaner, I can quickly adjust it to my exact fitting. Also, I carry one running outfit, swimsuit, and goggles with me. If my bags are delayed a day or two, at least I can get out and swim and run while I wait for my bags!

Pack your XRCEL: I always pack my XRCEL in a checked bag when I fly to a race or training camp. Remember that XRCEL is a liquid and each bottle is 4.75 ounces which is above TSA's 3 ounce allowable limit for carry-on luggage. I pack a small bag with all of my food and XRCEL and place it in my suitcase. You could also put XRCEL in your bike box/bag, but I tend not to because my bike box is already near the weight limit to not pay extra overweight fees. I once showed up at a race and another athlete asked me if I had any XCREL because he had put his in his carry-on bag and it was confiscated by TSA at the security checkpoint. I didn't share mine, too bad for him!

Be self- sufficient: think through the items you may need and take those items so you can be self -sufficient. I found the best investment I've made was a $9 electric tea kettle. It fits in my bag, it's light, and it boils water. This means I can make oatmeal and coffee anywhere in the world!

Carry the right tools: I've learned that it's smart to carry most of the right tools to fix many problems with my bike. I don't carry everything, because a major issue would need a mechanic's attention anyway. I always carry electrical tape, super glue, zip ties, and a sewing kit. You can fix a lot with those items. You can superglue a small slit in a tire you get the day before the race or you can sew up a tear in your race kit or swim skin. Another item I carry is a spare dérailleur hanger for my bike. Most bikes come with a spare when you buy it and that part can easily get bent in shipping. So it's wise to have an extra with you so a mechanic can easily swap it out. I always hear of people getting their dérailleur hangers bent in shipping their bikes.

Be a germaphobe: nothing will sideline your race faster than getting ill before the race. It's happened to me before and happens to many athletes. Traveling through airports it's easy to pick up a bug. When I travel, I become a germaphobe. I keep hand sanitizer in my pocket and clean my hands after I touch anything. When I get on the plane, I wipe down the seat belt, arm rests, tray, and anything I may touch on the flight with disinfecting wipes. Yes, I may look like a freak to some travelers around me, but I would rather that than to miss my race because of the flu. If you're in a hotel with a buffet for meals, hand sanitizer after every time you go get more food. All those grubby hands are grabbing the serving utensils.

I've learned a lot from my years of race travel, so I hope a few of my tips can help you make your next race trip a little smoother.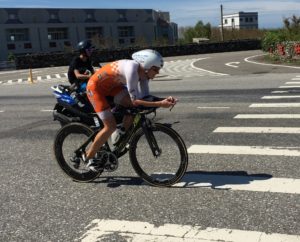 Patrick Evoe is a professional triathlete and an XRCEL ambassador. He is an Ironman and Ironman 70.3 winner, as well as 8x full Ironman podium finisher. He brings with him a wealth of experience and knowledge with nearly a decade of professional Ironman racing and 30 full Ironman finishes. You can find more information about Patrick on his website Patrickevoe.com as well as his social media: Twitter – @patrickevoe , Facebook – /patrickevoeracing.