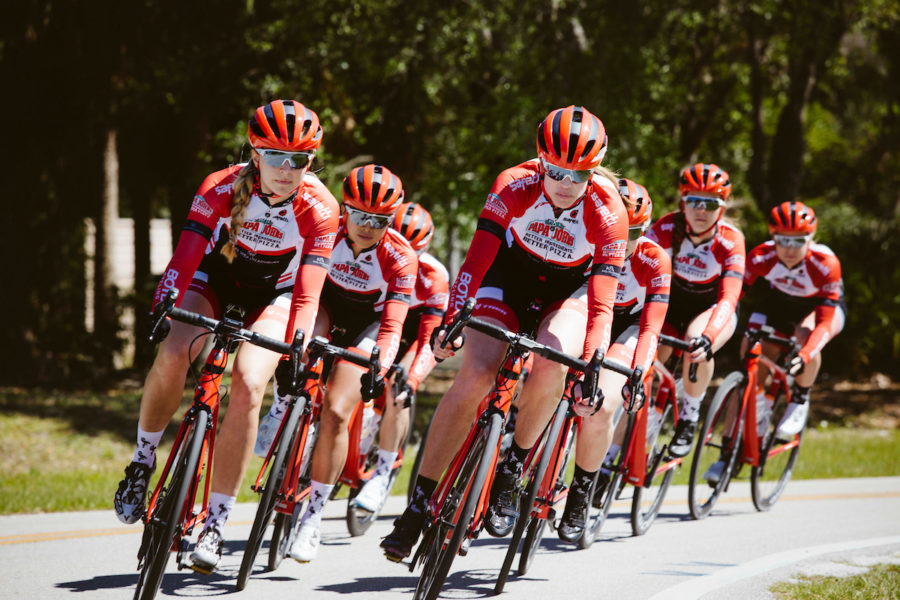 16 Aug

A Ride of a Lifetime with Tish Kelly

With a competitive background in multiple sports, it's not surprising that Tish Kelly is now the team owner and manager of the Papa John's/PB Trek women's professional cycling team. Kelly's love and passion for cycling throughout the United States and Europe easily translated into building what is now an up-and-coming team with major sponsors and impressive athletes, including her daughter, Madison. Now, with a complete roster of team-players, Kelly is excited for what the future holds as the sport's interest continues to grow. Check out what challenges Kelly faces as the team manager, her goals for the team, and what it's like to watch her daughter race. Stay tuned as XRCEL introduces you to all of the team members this season as we continue to support these hardworking and talented athletes.

XRCEL: With an elite level background in an array of other sports, what has it been like taking on the role of team owner/manager of a sport you got started with later in life?

Kelly: Something new and exciting, but same template as most any sport. It's fresh with different line up of characters in different places. It's fun because I am so enamored with cycling and am an avid rider racer myself.

XRCEL: What has it been like watching your daughter, and team member, Madison, grow and thrive in the competitive world of professional cycling?
Kelly: It has been fun but I worry about her getting hurt! We started out three years ago racing together and that was the most fun of all. We just got in the car and drove around to all the races and had a blast! Best summer ever! We kind of stumbled into this whole team thing and it just kept growing and snowballing and now we've got a beautiful team for her to be on, but we are fair to everyone and everyone gets a chance, they don't just race for her.
XRCEL: What's the best part about running a women's professional cycling team? and what are the challenges?
Kelly: Best part is supporting women so they can race. Our ladies have jobs and / or school so if it weren't for sponsor support and Capital Wealth Advisors flying them to events they wouldn't be able to race as much or as far away from home.
The Challenges are getting 8 women that gel. Last year we had some tough goes with members that refused to be team players, so they weren't asked back. Got to work as a team. It's also tough to let go of racers that maybe are sweet but not up to par. So managing people is tough.
XRCEL: What do you hope the Papa John's team brings to the women's professional cycling world?
Kelly: Team tactics, color, excitement, example of professionalism, new ideas.
XRCEL: What has been the most rewarding moment for you, so far, as the team owner of the Papa John's/ Trek team?
Kelly: To see my creation, I worked so hard to obtain, lined up at the start of the race perfectly kitted up in Safetti wear, Trek bikes, Boyd wheels, Bontregar helmet, heading out together.
XRCEL:  With so many different nutrition options in the endurance industry, what made you feel XRCEL was the best fueling source for the team? 
Kelly: I tried it and some of the others did also and we all liked it. This will be our third season being fueled by XRCEL, we use the product and have had outstanding results! We don't like to go without our XRCEL during our fast, 60 min crit races because of it's fast, immediate and lasting energy.  We also like XRCEL's extended release feature for our road races and long training rides. It works! Personally, XRCEL has energized me through the toughest of rides even after a sleepless night and in the toughest of headwinds in south Florida. I'm hooked for life!
XRCEL: What have you learned since you started the Papa John's Women's racing team three years ago?
Kelly: Cycling needs more teams like ours. Criterium racing is growing in popularity and it's sponsor and spectator friendly and should be better supported by USA cycling and made a priority. I believe we should lead as Americans and not follow. Let's get the Europeans crit racing. We barely have any stage racing left in America anyway because I believe it's boring to them. It's a cultural thing. Crit racing is the NASCAR of cycling with a bit more class.
XRCEL:  With all your experiences, what words of wisdom do you have for your team members and people in general?
Kelly: Make sure what you are doing is fun and safety first! Be a noble racer. Ignore the jealous haters.
XRCEL: What are your goals for the Papa John's team this year?
Kelly: To stay in one piece and do the best we can.
XRCEL: Any other thoughts or comments you want to share?
Kelly: We encourage everyone to continue to follow the team as we power through the season. The team will have a new title sponsor next year but the excitement and commitment to great racing will continue.