Escape NYC Training Adventure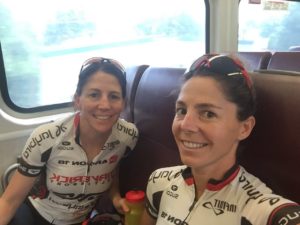 Click Image for Video
People are always curious to know how Laurel and I train for triathlons in NYC. Like anything in The City, it's not easy, but if you want it to happen, you can make it happen. Although there are plenty of great training options within city limits – Central Park bike hills, competitive swim partners at Asphalt Green, the anti-gravity Alter-G treadmill at Fusion Sports Performance – we occasionally leave the island for some extra mileage.
One of our favorite escapes involves taking a ferry and a train to rolling country roads in upstate New York. It's not as easy as spinning out of the front door, but it isn't too chaotic as far as NYC things go. You can go from crowded city streets to quiet rolling country roads in a little over an hour (without having to carry your bike up and down subway stairs or jam it into the back of a taxi!)
Here's how it's done:
Step 1: Choose a Departure Time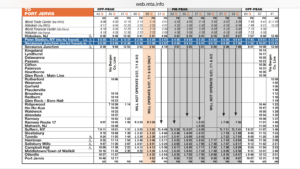 Download and take a screen shot of the Port Jervis Train Line Schedule . You may want to refer to the schedule again for your return trip.
Step 2: Ferry
– The ferry departs from the World Financial Center Terminal. It's a fast 7 minute trip across the Hudson. Cost: $6 + $1 for the bike. Note: this ferry only runs on WEEK DAYS. If you want to plan a weekend adventure, check out the schedule for the 39th street Ferry Terminal.
Step 3: Train
-From the ferry, wheel your bike across the platform to the Hoboken Train Station. If everything goes according to schedule, you'll have about 10 minutes until the train departs. There is space in most of the cars for bikes, but you are supposed to bring something to secure it to a metal railing. I used the velcro from my bike shoes! Cost: between $13-17 depending on where you decide to get off and if you are on or off-peak. We'd recommend going at off-peak hours since bikes and crowded trains don't mix.
Step 4: Bike
-We prefer to get off the train at the Campbell Hall station and go from there. We take Neelytown Road to Beaver Town Road towards Montgomery and then continue north to New Paltz. If you're on Strava, search "Laurel Wassner" to see the exact route we did recently from here. Another option is to get off the train one stop earlier at the Salisbury Mills/Cornwall Station and link up with the Answer 2 Cancer's century ride route. The views from this area are amazing and you'll get to dip down underneath the Moodna Viaduct  which is really fun.
Step 5: Fuel
-Be sure to start your day with a fueling plan. Once you leave the Hoboken train station, the options for food and drink are not obvious. I usually bring a snack for the train ride and have an XR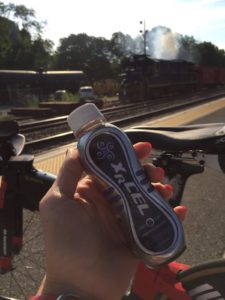 CEL 15 minutes before arrival so that I'm ready to hit the road as soon as we get there.  Once you decide your route, do a quick search for gas stations so that you have refueling options. Or, you could plan on a mid-ride lunch stop somewhere. If you decide to head to New Paltz, there are plenty of bike friendly restaurants in town (Gomen Kudesai for noodles and bubble tea, Karma Road for smoothies and kale salads, La Bella for a slice, The Bakery for bagel sandwiches, and plenty more).
The return train ride may seem line, but put your feet up, relax before riding right back to the city hustle.
-Rebeccah Wassner