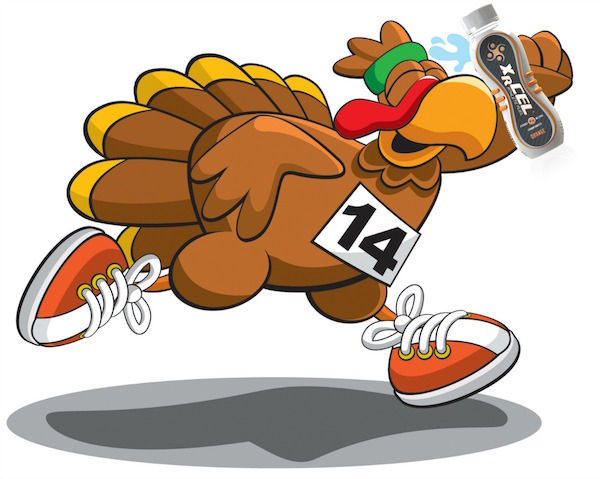 15 Nov

Fitness Tips for Holiday Travel

by Patrick Evoe, Professional Triathlete

The holiday season is nearly upon us and with that comes the inevitability of family, food, and fiestas. Whether you're in full-blown off season or coming into or out of your sports' seasons, maintaining some form of fitness is important. If you're a triathlete, cyclist, or runner, you may be in your off season, so you may not feel pressure to be hammering sessions. I've never subscribed to the "off-season" attitude, rather I look at that time of the year as next season's preparation. The holidays themselves present enough challenges for staying in your training routine, but if you need to travel to visit family, you're faced with difficult odds to keep your body moving.

Of course, there is the issue of food choices, or lack there of, when it comes to the holidays and parties. Countless articles are published every year about making good food choices this time of year, so I won't touch on that topic. Also, I've always subscribed to the idea that during the winter months, I should loosen up on eating. As long as you're still active and exercising, enjoy some fun foods over the holidays. Here I want to share some tips from my experience to resist the urge to hibernate or the excuse that it's too hard to train while traveling during this time.

It's up to you – First and foremost, if you're traveling, the deck is stacked against you to train. Family, food, parties, old friends will all take up your time and energy. Unless you make an effort, no one will make it easy for you to train. You need to think of it as a challenge to fight against those odds. It's a mental attitude you need to embrace. Additionally, I've found that I can relax more and enjoy the holiday fun if I know I've done a good session that day.

Set an early goal – A couple years ago my coach asked all of her Boulder-based athletes to register for a local 10km running race in Denver on January 2nd. Even though it was just a fun local race, when I was back in Detroit visiting my family for Christmas, I had more motivation to do some good running training because I didn't want that upcoming 10km to be a complete disaster. Having some sort of accountability or checkpoint soon after the holidays may be just enough to keep you moving.

Get creative – Learn to adapt to your family's schedule and get creative about squeezing in training. For instance, one year, while visiting my parents, we were planning on going over to my sister's for Christmas morning brunch and the normal family party. My sister lived 10 miles from my parents. I put a change of clothes in my parents' car, put on my running gear, and told them that I'd meet them at my sister's house, and then got running. When I arrived at her house, I jumped in the shower, and a few minutes later, I had 10 miles under my belt, was showered, and ready for family time. Just try to think outside of your normal workout routine.

Running is your friend – Swimming and cycling have their own logistical training challenges when you're traveling. Running, however, can be done anywhere. Throw a pair of running shoes in your bag and some clothing options for variable weather and you can train anywhere. I've always found the winter to be a great time to work on my running. Look at the weather as a challenge as you travel. Dumping snow? No problem, get out there and enjoy the serenity of the sound of your breathing and the crunch as your foot falls in the snow. Work on your foundation or base miles. Find a hill and run a handful of repeats up and down. Go explore different neighborhoods or trails. Make up a fartlek workout: 10 min easy warm up and then 15 times through 1 minute hard, 1 minute easy. Running's flexibility, time efficiency, and simplicity makes it your best ally when you're traveling and short on time.

Swimming ideas – Maintaining swimming fitness while traveling is always a challenge. When I was an amateur triathlete and working a corporate job involving some travel, this was always difficult. The first and most obvious tip is to get on Google and try to find local community pools where you can drop in and get in some laps. Even a couple 30 minute swims will help you keep the feel and muscle memory when you're away from your home pool. In the event that you can't get to a pool while you travel, stretch cords are an excellent tool to help you keep your swimming fitness. You can purchase swimming specific stretch cords from a local swimming or triathlon shop, or they're also easy to order on-line. They take up almost no room or weight in a suitcase and you can find many places to anchor them to do quick swimming specific workouts in your hotel or bedroom. You only need to spend 10 minutes or a little more to keep your swimming muscles strong and engaged. A friend of mine coached a triathlete in the US Army who was deployed to Iraq. He didn't have access to a swimming pool for the entire deployment. My friend had the soldier do a stretch cord workout nearly every day. Upon returning home from Iraq, his first time in the water in 9 months, after a warm-up he swam 100 meters for time and was only a few seconds slower than his all time fastest 100 meters. Ever since my friend told me that story, I've been a firm believer in stretch cords' ability to maintain swimming strength and fitness.

Body Weight – You don't need a gym to be able to get in a good workout. You can do body weight exercises anywhere in the world. Squats, calf raises, a triceps dip off a table or bed, step ups on a chair or staircase, push-ups, back bridges, mountain climbers, etc. There are a whole host of body weight specific exercises you can incorporate while traveling. A few minutes of web searching and I bet you can find an entire body weight exercise routine. One particular session I've found effective in my training that can be performed on the road is to incorporate plyometric exercises at the end of a run workout. For example: go out for a 30 – 60 minute run. When you're finished, before you go inside, do 3 sets of 10 squat jumps, 3 sets of 16 walking lunges, 3 sets of 10 bounds, 3 sets of 10 single leg hops on each leg, 3 sets of 10 double leg hops. If you pack a jump rope, you can then throw in a few sets of jump rope. If you do some form of a plyometric routine at the end of a run when your legs are already fatigued, you will get in a short but great strength session.

Staying in your workout routine while traveling for the holidays is always a challenge, but you need to remember that you have the tools you need to be able to maintain your fitness. Don't let  yourself give excuses for going into hibernation. It's not easy, but you can prevent yourself from taking a step backwards as you prepare for your next racing season.