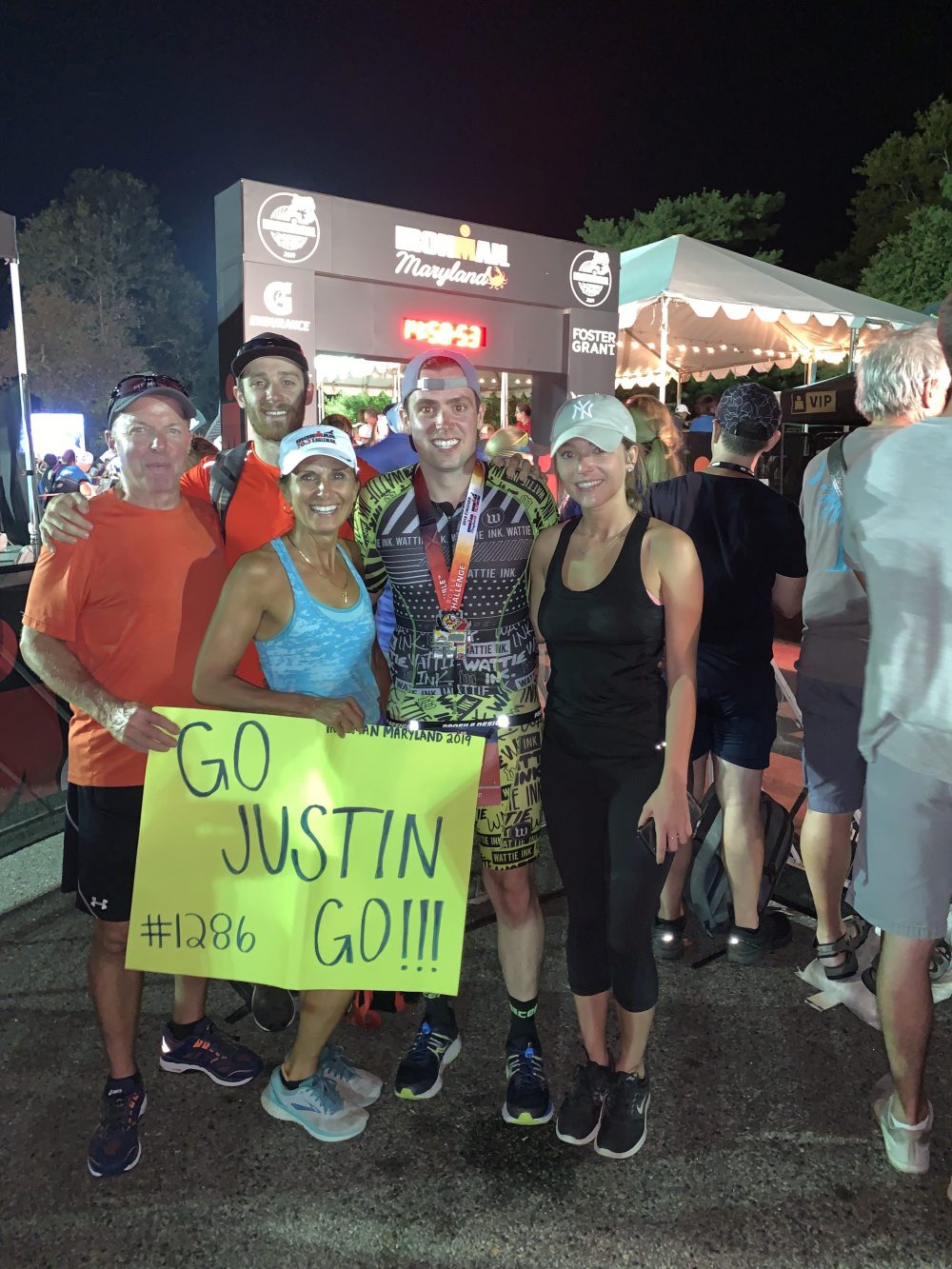 26 Oct

Ironman Maryland 2019 Race Report – A First Timers Journey

Justin Hughes – Amateur Triathlete

I'll preface this race report with a few thoughts…
This was my first ever attempt at a full-distance Ironman.
The goal was to just HAVE FUN. If I finished in 17:01, but I had fun, then I'd say the day was a success. If I happened to finish in under 17 hours, that'd be an added bonus.
I've done my fair share of 70.3's over the last few years, but a full had been on my bucket list for a few years and IronMan Maryland fit the calendar for 2019.
I'll try to make this entertaining, but if you're looking for a real knee-slapper, check out Josh Amberger's Kona Recap. If triathlon doesn't work out for him, stand-up comedy should be his next endeavor.
Saturday morning the alarm went off at 3:00am. I typically don't sleep well before races, but surprisingly, I slept rather well given the nerves and circumstances. I threw the final preparations into the car and scarfed down the usual pre-race breakfast (toasted everything bagel with peanut butter). From where we were staying, was a good hour drive to Cambridge. Once we arrived, we parked in the pre-paid parking area right at transition (PRO TIP: highly recommend doing this option as parking is very slim in the neighborhood surrounding transition). Dropped off special needs bags, topped off the tires with air, and loaded my nutrition onto the bike. My fueling strategy for the day was the following: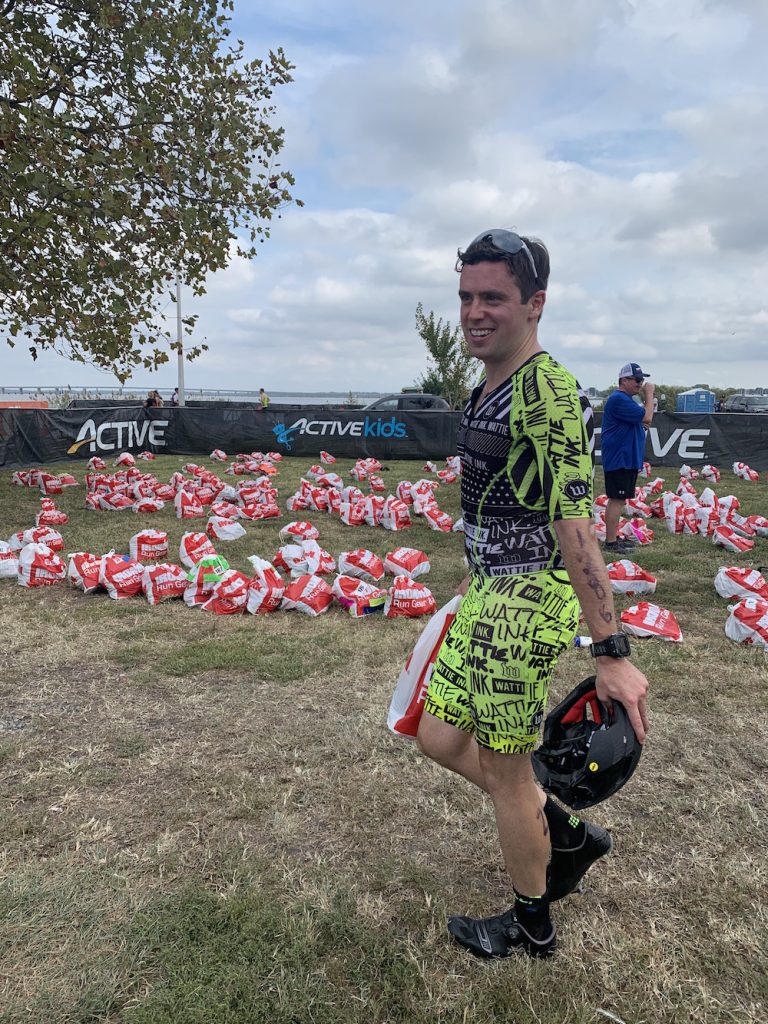 Swim – 1 XRCEL Peach Tea bottle just prior to swim start
 T1 – 1 XRCEL Peach Tea bottle
Bike

First 60 miles…

3 XRCEL Orange bottle
2 small PB&J sandwiches

Special needs bag…

2 XRCEL Peach Tea
1 small PB&J sandwich

 T2 – 1 XRCEL Peach Tea bottle
Run – 4 XRCEL Orange bottles (throughout)
I put my wetsuit on, grabbed my trendy aqua eyewear and walked over to the swim start. I lined up in the 1:40-1:50 group, again, looking to just cruise the swim and conserve as much energy as possible knowing I have conservatively another 11+ hours ahead of me. Threw back 1 XRCEL Peach Tea just prior to the gun going off. Took a deep breathe and waded out into the water. Now the fun starts…
For anyone that's done Eagleman or IMMD, you're familiar with the Choptank River. For those that haven't, lets just say it's called the Choptank for a reason, key word here is 'chop'. For the first 400m you really don't feel the current, but once you make the first turn, you quickly find yourself in a brackish washing machine on max spin mode. The current however wasn't the star of this year's race.
Due to the warmer than usually water temps, coupled with no rain fall in the weeks leading up to race day, the swim course was full of jellyfish. My first loop they weren't too bad, a few stings here and there, but the second loop, those little buggers were ruthless! I'm assuming all the fast swimmers pushed them out of the way on the first lap, and then the second lap the jellies came back with a vengeance against the back of the packers like me. Once I made the final turn and neared the swim exit, I was excited to be back on dry land and away from the jellies the rest of the day.
Swim: 1:32…
I took my time in T1, ensuring to not miss anything. Doused my arms and feet in vinegar to ease the jellyfish stings before lathering on the sunscreen.
Having done Eagleman many times in years past, I knew what I was getting myself into with the bike course…
• The scenery – while absolutely breathtaking through the Blackwater National Wildlife Refuge, it makes for a very lonely ride (i.e. spectator-less).
• Flat as a pancake – no hills means constant pedaling and zero coasting.
• Wind – hands down the biggest defense this course has. Most sections are very exposed meaning no break from the seemingly always present headwind no matter what part of the course you're on. The longer you're out on the bike course into the early afternoon, the stronger the wind gets.
Not too many highlights on the first hour or so of the bike. My power was right where I wanted it to be and my stomach was agreeing with my nutrition strategy. I was in the groove and humming right along to Lizzo's newest summer hit (not the song I would have chosen, but the only one that would come to mind).
At what seemed like the blink of an eye, I cruised into special needs at mile 63 feeling surprisingly well, and so far everything was going to plan (excluding the jellyfish). Grabbed my 2nd bottle of 2 Peach Teas that I froze and placed in my T2 bag, along with the next round of PB&J. I remember thinking to myself "my legs feel good", but knew the wind was only bound to get stronger.
In the early goings, the miles were flying by. Once I hit the 85ish mile mark though, that's when my mind started to wander. Each 5 mile 'beep' of the Garmin seemed like an eternity. The wind was really starting to blow at that point and I told myself just put your head down and keep pedaling, no matter what the power meter read. I cruised back into T2 and was met by some familiar faces (family and friends) who had been waiting anxiously for my pedal-fest to finally come to an end.
Bike: 6:47…
In full transparency, I had never run a marathon in my life prior to this race, let alone after having just rode 112 miles. When I got off the bike, my legs still felt surprisingly ok. Tired yes, but not absolutely deflated. Again, I took my time in T2, ensuring to grab everything and load up on the sunscreen as it was really starting to heat up. I took it out really easy the first few miles, just focused on keeping the heart rate low and getting into a rhythm.
Fast forward to miles 8-13 and that was my first "dark" moment. Due to the looped layout of the run course, you actually pass the finish line 5 times before you get to run down the red carpet. The first time through was exciting to experience the crowd cheering on the elites as they were finishing, but during the 2nd time, it really hit home how much longer I had ahead of me. I also felt I was getting a bit low on liquids and was slowed to a walk. I took in some extra fluids at the next aid station and let the body "recover". Within a few minutes, I was able to increase the pace back to a light jog and get back into the groove.
I honestly don't remember much between miles 13-23. Just keep telling myself to put one foot in front of the other, because as long as I kept moving forward, no matter what the pace, I would make the 17 hour cutoff. Fast forward to the last 3 miles and was completely shocked as I found myself still running after nearly 14 hours. At mile 25 I made my 5th and final pass by the finish line before I would enter the finish line chute.
Run: 5:45
If I had to summarize the advice I received from folks I spoke with in the days/weeks/months leading up to the race, they all said some variation of … "slow down once you get to the red carpet and soak it all in, you'll always remember your first time." While the lady in front of me crossing the finish line may have slowed down a little too much, to the point where my finish line pictures are of her not me, those 15 or so seconds coming down the finish line chute is a moment I will never forget. It was the culmination of countless hours of training … the realization of a pipe dream … the celebration of many sacrifices. Ironman Maryland was my victory lap.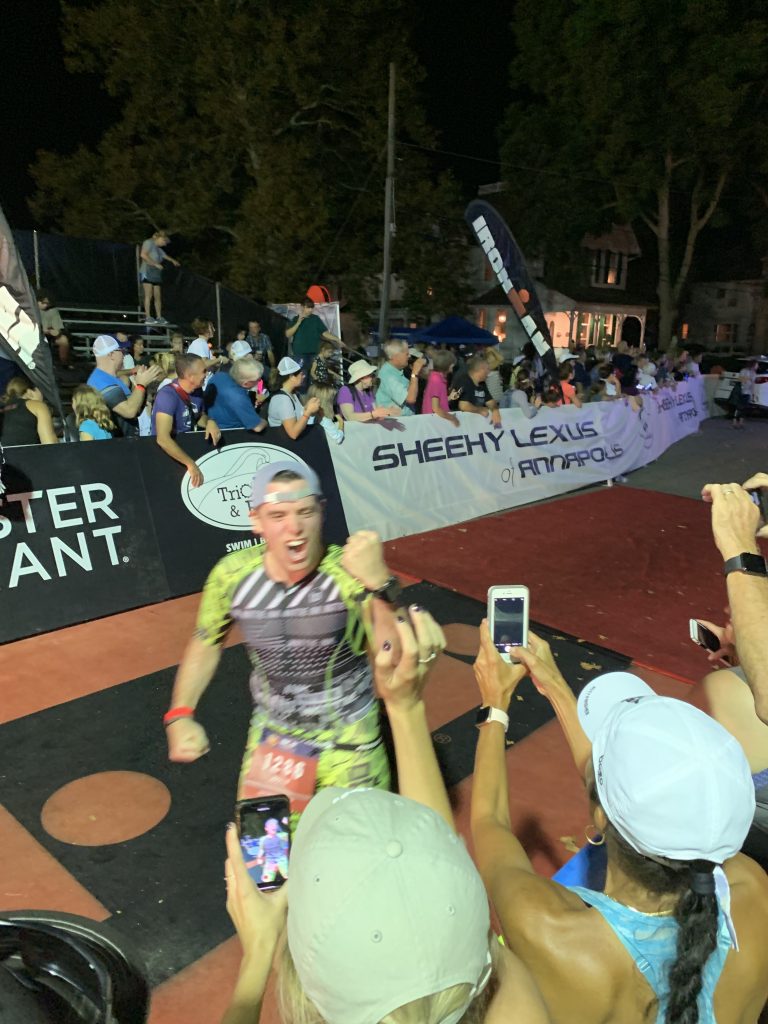 Overall 14:27
In closing, I want to give a big shout out to the entire XRCEL team. Thank you for continuing to support me throughout this journey. I couldn't have done it without you!