04 Nov

Kona at a Glance: An Amateur Athlete's Race Day Rundown

Every triathlete knows that the Ironman World Championships in the biggest race of the year. Not only do athletes have to qualify for this epic annual event, but they know the blood, sweat, and tears that go into preparing for this race is like none other.  Age-group extraordinaire, Don Oswalt, takes us down his Kona memory lane and lets us in on his road to qualifying, how he stayed fully-fueled, and what it's like to race the world's best.

XRCEL: Congratulations on qualifying and racing in the 2016 Ironman World Championships, the sport's most prestigious triathlon. Tell us about your process in getting there!

Don: Thank you for the opportunity to share my story. I have only been doing triathlons for about 7 years. I started doing a few local sprints and I was hooked before working my way up to half Ironman races, and eventually, full Ironmans.  I did my first full Ironman in 2013 at IM Florida with a time of 10:18 and some change. I took a break in 2014, only doing sprints and half distances. My goal for 2015 was to do Ironman Chattanooga and qualify for Kona. My coach, Anne Moore,  laid out a great plan for me and we worked hard for 6 months. Chattanooga is a great course, but has some very challenging hills on the bike and run. My goal was to try and come in under 10 hours, giving me a chance to qualify. I had a slow swim and was in 125th place out of 283 coming out of the water. I kept my cool and worked my plan and was in 16th place off the bike. My goal was to run a 3:30 marathon and felt good coming off the bike, so I just kept pushing. I ended up running a 3:24:43 marathon coming in 4th place and missing 3rd by 3 seconds. I thought I had lost my chance, thinking they would not have 4 Kona spots for my age-group. I went to the awards ceremony the next day and, to my surprise and delight, they actually had 4 spots! It was an amazing feeling to know that I made it!

XRCEL: Given this was your first-time racing in Kona, how did it compare to other races you've done? Did it live up to your expectations and are you happy with your results?

Don:  It was literally the toughest thing I have ever done and I was not sure what to expect. You can talk to people that have been there, but until you are actually there competing, you have no idea how the conditions really take a toll on you. The wind and heat on the bike was something I have never experienced before. Being a first-timer, I am happy with my results. I would have liked to have a better bike split, but it might have cost me on the run.

XRCEL: Describe your race day  experience on the Big Island.

Don: I was fortunate to have great support in Kona. My sister Dawn and I walked down to the start around 5:30, which I was so glad about because my bag was about 50 pounds and she carried it for me! Coming down Ali'i Drive and seeing the finishers shoot and finish line, made me stop and just take it all in for a minute. Realizing that I was doing this race got me a little choked up.

We arrived at 5:45, dropped off my special needs bags and headed to get body marked. But, before they put the temporary tattoo on they weighed me before the race. That was a little different from other races. The lines moved quickly and once I arrived to transition I got my XRCEL bottles and other nutrition loaded up on my bike and in my gear bags. I then pumped up my tires and tried to stay relaxed while waiting for the swim start. I got in the water around 6:45 with the cannon going off at 6:55. I found my spot near the Roka floating buoy and tried to stay calm and tread water. I decided to stay towards the back to decrease the anxiety of getting kicked or hit on the swim. The swim is the most iconic swim in the world of triathlon. You can see fish and coral everywhere since the water is so clear. The cannon goes off and I go out hard for the first 100 meters then try to get settled into my race pace. I did not feel boxed in or anything like that. I tried to just "stay on feet" in front of me and stay relaxed. Coming out of the water at 1:14:51 I was in 139th place out of 205 guys. My transition went very smoothly, I had everything on my bike so all I had to do was throw my Blue Seventy skin suit into my bag and get to my bike.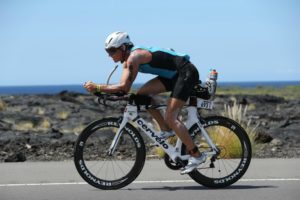 Bike – everyone I talked to said to pace yourself on this bike course, so I took that advice and tried to not go out too hard for the first 20 miles or so. We had a little tailwind once we got on the Queen K but, it did not take long for things to change. Headwind, tailwind, massive crosswinds were on tap the whole way. The headwind on the way back into Kona really messes with you and it was nothing I had ever experienced before. Coming off the bike at 5:52:07 and in 117th place. My transition was a little slow since I took time to make sure I had all my nutrition and felt good going out on the run.
My run goal was to have a 3:20 marathon. I decided that I would take something in at each aid station along with my XRCEL and GU's. I took in water and Gatorade and made sure I was grabbing cold sponges to help keep cool as much as I could.  I also had a Desoto skin cooler that help keep heat off my neck. I felt pretty good entering the famous energy lab. I am not sure what it is, maybe the lower elevation and seemingly no wind but, it really heats up in there. I am thankful I had my special needs bag at mile 16 to restock my supply of XRCEL to get me to the finish. The last 4 miles were a blur, but I  just tried to remember to drink and keep cool. There is a steep downhill before you get to the final stretch on Ali'i drive. My legs were toast at that point and when I looked down at my Garmin I noticed I was running a 6:30 pace with no way to stop my momentum down that hill. Once I made the turn on to Ali'i drive, it took all I had just to keep going. My legs were not responding and at this point it was all mental, and I actually fell with about 25 yards to go to the finish. I was able to get back up on my legs and pushed on to the finish! My marathon time was 3:25:31, qualifying me for the 2018 Boston marathon, while my finish time was 10:42:24, placing me 52nd overall. It was a tough, but amazing day!
XRCEL: They say nutrition is the 4th leg of multi-sport because it plays such a critical role in performance, especially in an Ironman. What was your fueling strategy?
Don: XRCEL played a vital role in my nutrition strategy. I had one bottle before the swim, filled one of my bike bottles with 5 bottles of XRCEL, had two bottles in my run bag, and one bottle in my special needs run bag. I also carried some shot blocks and GU with me. My plan was to use the aid stations to cool down with water and grab some Gatorade, Red Bull, and Coke towards the end of the run.  I used XRCEL all season long, which I believe helped me reach my training goals for the 2016 season.
XRCEL: How did XRCEL help you manage your energy levels throughout the day?
Don: XRCEL is formulated to give an immediate boost of fuel, plus it is the only product on the market that has mirco-gels that give you fuel when your body needs it. I believe having XRCEL available all day to fuel my body while I raced allowed me to perform at my best and helped me get through the toughest part of the day, which was the last 25 yards to the finish.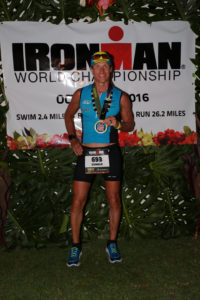 XRCEL: Now that you have your first world championship under your belt, would you have trained or prepared for Kona any differently both mentally and physically?
Don: My coach had me fully prepared for Kona. The Charleston area does not have hills at all, so I would drive to Orangeburg and Greenville South Carolina to get some hill work in. The only thing that I was not trained for was the wind and I'm not sure how you would simulate that in training. Most of my workouts were solo, so I think that helped prepare me mentally. I rode some intense power sets within long workouts. I probably could have trained in the heat more or done more ocean swims. I am also a big believer in visualization and weeks leading up to Kona I would visualize every aspect of my race and how I would feel and deal with things if they did not go as planned.
XRCEL: As an experienced age-group athlete, what kind of advice would you give to a fellow first timer who will join the rankings among the best and compete at the Ironman World Championship next year?
Don: Enjoy the experience, take in some of the fun pre-race activities like the parade of nations and the underpants run, but do not wear yourself out beforehand. Get there early enough to get used to the time difference and get out on the course, especially to acclimate to the windy areas of the island for the bike.  Try to relax in knowing that you are there because you earned it and you are one of the best in the world. Make sure to take time to take it all in and be thankful for all the people that helped you get there.
XRCEL: What was your favorite part about your race experience?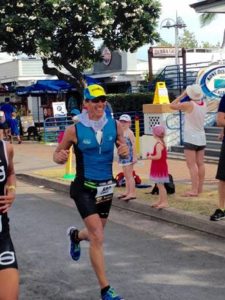 Don: My favorite part was about mile 9 on the run. My wife and two nieces were able to get on a microphone and introduce me to the crowd and cheer me on as I ran by. It was a great memory of the day. I am also grateful for my family being there and cheering for me like crazy on several spots of the course.
XRCEL: What personal or professional goals do you have for the 2017 season?
Don: I am going to take the next few months to just chill and let my body rest before my wife and I plan next year. I know that I will be doing some local races and maybe a half, but nothing's set yet.
XRCEL: Do you have any lasting comments and words of wisdom you would like to share?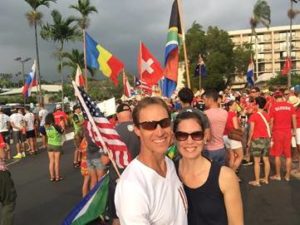 Don: I just want to thank my wife Kathleen for being my number one fan and support for all my years of competing. I am totally amazed at all she has done for me and I am forever grateful. Thanks to my coach Anne Moore for getting me in the best shape of my life and continuing to push me to be the best athlete I can be. Finally, thank you to my family for being there and to my friends and family all over the country that were cheering me on. I have many memories that I will be cherishing for a long time.