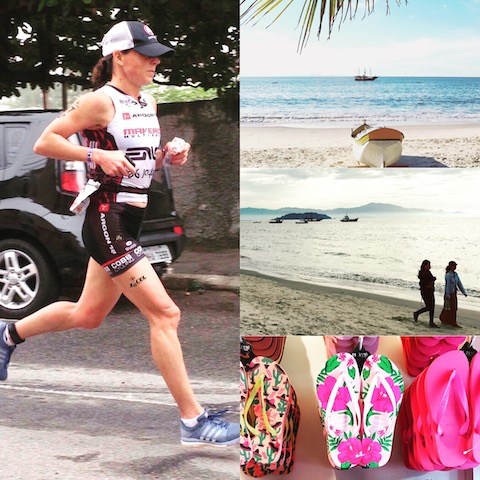 27 Jun

Pro Triathlete Battles the Unexpected at Ironman Brazil

Most triathletes will tell you that the amount of time and energy they put into preparing for an Ironman seems endless. From figuring out their race nutrition to finding the perfect fitting goggles, the attention to details are what makes them comfortable and feel ready to push themselves for a long day of swimming, biking, and running. However, what happens when the unplanned wrecks their race day plan? Our pro triathlete, and XRCEL ambassador, Laurel Wassner knows a thing or two about heading to the starting line of an Ironman without the gear and nutrition she used during her training regime. Find out how Laurel survived Ironman Brazil without her own bike, borrowed running shoes, and nutrition labeled in Portuguese. To say the least, Laurel had to quickly manage any triathlete's worst nightmare, but goes on to tell us how she rolled with the punches and salvaged a top 10 finish.

XRCEL: Congrats on your 8th place finish at Ironman Brazil! Why did you choose that race?

LW: I chose to race in Brazil because I did well there last year, finishing 5th.  It is the Latin American Championship race, which offers a big prize purse as well as a lot of points for Kona qualification.  I like big races and challenging myself against the best athletes.  Also, the hills on the bike course suit my strengths.  You can only do so many Ironman's, so it's important for me to choose wisely.  Texas is a lot easier to get to, but the flat bike course, and only weighing 110 pounds, does not allow me to gain much of an advantage on my competition.

XRCEL: What was your expectation for this race?

LW: My expectations for Brazil were to execute a good race.  My swimming, biking, and running were the best they've ever been and it was just a matter of me putting things together.  I was confident my fitness would land me on the podium and possibly fight for the win.

XRCEL: You just came off a 2nd place finish at The Wildflower Triathlon, which is shorter than an Ironman.   How were you able to get in Ironman training and what did that look like?

LW: After coming 2nd at Wildflower to Liz Lyles, and only being a few seconds shy of the fastest bike split and  losing time with broken handlebars, I felt I was ready to compete with the world's best.  I trained more specifically for this Ironman in that I increased my running volume and even did a 26-mile training run by running the Boston Marathon in 3:13.  I also added a weight training program for the first time and felt a difference in my bike power and swimming strength.  I did an intensive week in the Santa Monica mountains where I climbed hard and recorded some personal best times. I returned to New York and did the rest of my training on the Computrainer.  I was shocked at the power I was putting out and was convinced my power meter was broken!

XRCEL: As far as your nutrition strategy, how do you use XRCEL athlete fuel as part of your training regimen?

LW: I use Xrcel before, during, and after workouts.  I take one 15 minutes before a workout, every 45 minutes during the workout, and one after my session to help my muscles recover. 

XRCEL: We know packing for an Ironman requires lots of planning and preparation.  What does your typical bike box and luggage contain?

LW: Well, here's where I made my fatal mistake:  I packed EVERYTHING in my bike case.  The airline I flew to Brazil didn't charge a bike fee or weigh the case, so I figured I'd just pack it full.  Next time I will spread out my equipment into my different bags and I will carry on my bike and running shoes!

XRCEL: Finally, you're done with hours of planning packing and now off to the airport—and we can only hope for everything to go smoothly.  Unfortunately, this was not your case. Tell us what happened when you arrived in Brazil.

LW: When I arrived in Brazil I got my suitcase (mostly full of pre-race food and clothes for after the race) but not my bike case which contained everything I needed for the race INCLUDING my XRCEL.

XRCEL: What was your initial reaction when you realized you did not have your personal items like your bike, running, shoes, and nutrition?

LW: I was hopeful it would arrive, but after two solid days of not being able to locate it, I became very, very sad and disappointed.  I went up to the hotel room and turned off my phone and laid in silence for 30 minutes.  I thought about the situation.  I was fit, healthy, I had working arms and legs, and nothing would stop me from not racing.  I reached out to the triathlon community and had an outpouring of support and found a bike to ride.

XRCEL: We can all expect things not to go our way 100 %, especially in a very long day during an Ironman competition where anything can go wrong. Walk us through step-by-step how you changed your race plan.

LW: As an athlete, it is rare that things go perfectly on race day, especially a long day like an Ironman.  I did my best to control what I could control and execute to the best of my ability.  I had a bike to ride, a very nice bike, and I borrowed a wetsuit.  The bike shoes I borrowed didn't quite fit and my running shoes were  running shoes I had never run in.  I figured some of those things would be painful along the way, but I knew I could push past it. What I was more unsure of was my nutrition plan.  I had to buy everything at the expo the day before the race.  There was only one recognizable American brand and everything else was Brazilian with ingredients in Portuguese.  I did my best to try to figure out what I'd need without spending too much money!  I knew I would be taking a risk, but I had no choice.  I would not have my pre-race  XRCEL or that hit of  XRCEL at the start and middle of the marathon which I practiced over and over.  I had to tell myself that all would be ok and to just do what I could do.  Not having my XRCEL was very hard, but I made it to the finish line!

XRCEL: How did you mentally prepare for race day knowing you did not have your own race equipment and nutrition?

LW: I received notes of encouragement and advice from my friends, competitors, and fans.  I read them all and thought about how despite not having any of my own things, I still had my legs, my training, and my incredibly strong will.  Sometimes I have no idea where that comes from, but if you tell me I can't do something, I get even more motivated to do it!  I thought about other athletes who have overcome difficulties and the ones you remember are the ones that would not let something like this stop them.

XRCEL: Tell us about your actual race day experience.

LW: The race was hard!  I followed the wrong buoys due to miscommunication and came out of the water behind where I wanted to be.  I also had some problems with my bike shoes, got a penalty on the bike, and dropped some of the nutrition I did have, but I still managed to finish 8th.

XRCEL: What lessons did you learn from this experience?

LW: I learned how to pack better and also that execution is key.  Even without my equipment, I could have placed in the top 5 if I executed my race better.

XRCEL: What kind of advice would you provide for any athletes who encounters adversity and faces unforeseen circumstance?

LW: Don't take no for an answer.  When all the cards seem stacked against you, don't fold.  Stand up and take the risk.  I could have walked away and said, this isn't going to produce the result I anticipated, so I won't race.  Instead, I took the risk of a bad finish and put myself out there and did everything I could.

XRCEL: How has this experience changed you and how important is it to have a positive mindset during competition and in life?

LW: This experience gave me a lot of perspective about racing, preparation, and opened my eyes to how generous people can be.  I hope that in the future I can help a fellow athlete the way I was helped by my competitors.