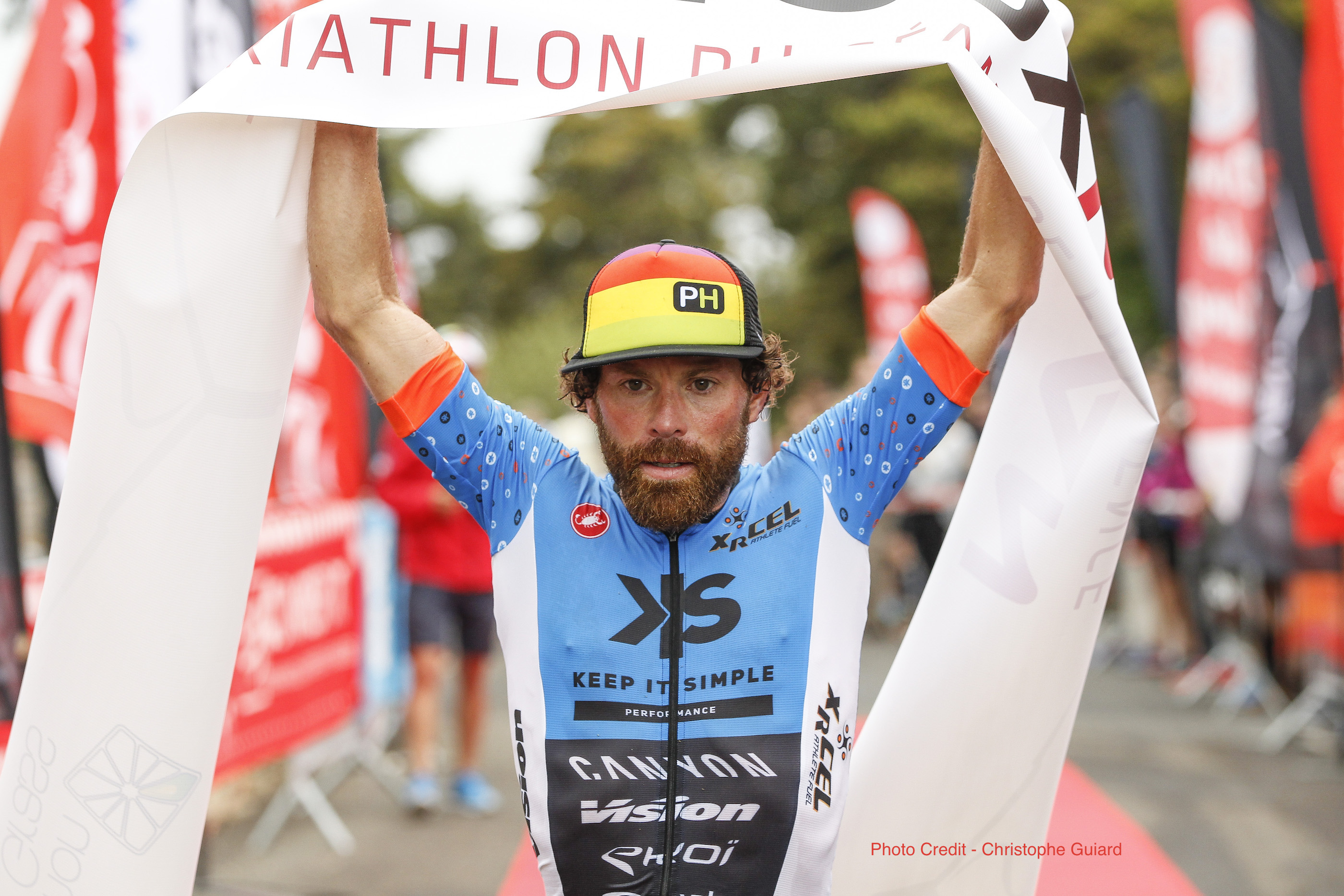 05 Jul

Scott DeFilippis: The Road Back to the Top of the Podium

Nothing could be worse for a professional triathlete than to be constantly fighting off a slew of, what seems like, never-ending injuries. While many might throw in the towel on their careers earlier than they planned, very few actually stick it out through the pain and rehab and put their bodies through their daily, physical grind, all while trying to recover and get back to their competitive ways. For professional triathlete Scott DeFilippis, patience truly has been a virtue and, along with hard work and bringing in some triathlon ringers, DeFilippis pulled off a captivating win at the elusive Ventouxman Triathlon in France this June. In our latest blog, the KIS Coaching coach reveals the highs and lows of his comeback journey as he continues to have one of his most successful seasons yet, while training a very special athlete to her own winning ways.

XRCEL: Have you come off of your "winning high" from Ventouxman yet?

Scott DeFilippis: Winning a race like Ventouxman on such an iconic mountain was certainly very special, but with three other big races planned this summer, it was important to move on quickly and get back to work.

XRCEL: What have you been doing differently in your training this year that you feel as contributed to your racing success?

SD: Several things have changed. For the first time in several years, I have been able to properly train for the run. My left big toe joint is degenerative and in college they told me I wouldn't run past 25. I managed it fine up until about three years ago when it really started to flare up, but thanks to my running guru, Lawrence Van Lingen, my ART Specialist, Gino Cinco of Function Smart, and some changes in diet, we have been  able to get the joint moving, thus I am able to run relatively pain free.

Secondly, last fall I sought the help of cycling Coach Matt Bottrill, who has quickly become in high demand after his brilliant work with Ironman Champion Tim Don. Matt had been coaching a very good friend of mine, and former teammate,  Dan Halksworth for a few years. Dan and I had kept in touch over the years after he made the switch from triathlon to cycling and, so I was familiar with Matt's work.  I got to a point where my cycling had plateaued and it was time to try something different. It's a process, but it's working!

Last, but certainly not least, would be the influence of swim guru, Gerry Rodriguez. Carrie and I started following Gerry's swim program, Tower 26, last March. Gerry has been great not only because of his swim sets, he has become a bit of mentor as well as a sounding board. He helps Carrie and me keep the balance in our relationship both on and off the training table.

XRCEL: How did you prepare in your training for such a tough course after batting so many injuries the past couple of years?

SD: We had planned to start this race back in late winter.  We needed to find a race scheduled two or three weeks out from Ironman France and our good friend Jacky Everaerdt put us in touch with the organizers, so we had heaps of time to think about the mythical mountain called Ventoux. From a training standpoint, we started going out to our local mountain in San Diego, Mount Palomar, and did long efforts up and down to help us both physically and mentally.

In terms of injury or niggles that have held me back the past few years, I have battled a sore back on the bike, which I couldn't figure out for the life of me.  Lawrence would work on me and I'd be ok but when I am in Europe for the summer, he's thousands of miles away, not an hours drive up I-5. In anticipation of this, I sought the help of bike fit specialist Ivan O'Gorman. Having switched to a new bike this year, a Canyon Speedmax, it was super beneficial to have Ivan fit me.  Through the fit process, Ivan pointed out several limiters / weaknesses that I had in my body.  He suggested it was time to get back in the gym so, with the help of Erin Carson of ECFIT and my friend Jon Noon, we came up with a simple strength program that I've been doing twice a week for the past few months.  My body isn't perfect, but my back has held up thus far, so fingers crossed we are on the right path here.

XRCEL: What did your race day nutrition and XRCEL use look like on race day?

SD: I always take one XRCEL before the start of the swim, but for the rest of  Ventouxman, I planned to fuel just like an Ironman, which consists of me taking four XRCEL in my bottle on the down tube of my frame. I also like to eat real food and had two chocolate croissants I put in my Jersey, drank water, and took Precision Hydration Salt Pills for my sodium loss.

On the run I had two XRCELs with me, and took one straight off the bike and the other roughly half way.  I turned to Coke the final five to six kilometers of the run to keep the energy going.

XRCEL: What were some of the biggest challenges you faced on the Ventouxman course?

SD: In terms of sensations, the day was perfect. In Wildflower, a few weeks earlier, I felt terrible the whole day, so I had to really battle, but in Ventouxman, nothing was forced at all!  I did however make a wrong turn on the bike and then again on the run. The bike mishap was no big deal as I was riding with two others and the caravan of press quickly corrected us, but on the run, I missed a turn early on. I ended up running a few hundred meters down this family's driveway. Here I am in the middle of the forest looking around like an idiot and of course asking them in English where to go. They yelled back at me in French pointing back up the trail and I was lucky enough to keep my head together and push on.

XRCEL: At what point did you take the lead and what was going through your head in that moment?

SD: I came off the bike two minutes down on the leader, Erik Merino, and after lap one of the four lap course, I hadn't made up any time. I had forgotten about my wrong turn, which cost me about a minute, so I was thinking I wasn't going to get him on the run course, which was brutally tough. I kept pushing and by lap three,  I was only 30 seconds down and I had just caught Carrie who was on her second lap. She said to me, "He's just in front of you about 30 seconds! You can win! Go get him" At that point I was pretty confident I was going to pull it off.

XRCEL: When you neared the end of the four-loop run, how did you stay focused in order to hang on to the win?

SD: Emotion! It has been such a long road back to being fit and as the weeks have ticked by, my confidence has been growing. I knew I was due for something special, so on that fourth and final lap, it was really like running on air. My emotion took the pain away!

XRCEL: What were you feeling when you hit the finish line as the winner?

SD: I felt a bit of disbelief as well as relief.  I have nailed nearly every training session since January, so to put it all together on race day was such a rewarding feeling.  As happy as I was, I quietly started thinking about the other targets I have set for the rest of the year.

XRCEL: What did you say to Carrie when she crossed the finish line as the women's champion?

SD: The race director, Charles, and his entire staff were so great!  The day before the race he told us, "We are like family here, so anything you need please call me," so at the finish he asked if I'd hold the finishers tape with him for Carrie. It was truly a special moment for all involved!  Having watched Carrie's fitness improve from week to week over the spring, I knew she was in shape for a really great day, so I expected her result.  Over the years we've had moments where she has won or when we've both been on the podium together, but to have us both win, there were no words, just emotion.

XRCEL: What is the best thing about coaching and training with Carrie?

SD: In terms of coaching Carrie, she made me a better coach, that's for sure!  I think we have gotten better and better together as the years have passed. I probably pull more and she pushes less and we've learned how to communicate much better from even just three years ago! She has helped me grow as a person and coach, which is quite special to think about really!

Carrie and I are extremely blessed with the life we live!  Sometimes I have to take a step back and absorb what we do as its easy to take life for granted, but the journey we've been on and the friends we've made, around the world is probably the best part of it all! We spend a lot of time together and not every day is easy, but at the end of the day we are best friends and that makes things a lot easier.  We've been through some growing pains like most, if not all relationships, go through, but we really stress balance in our lives.

Whether we are at home having a "Sunday Funday" in our back garden, having a laugh at one of our local pubs back home, on a "racecation" with some of our KIS athletes, sharing a glass of wine on Lake Geneva with our Swiss Friends and Family, or simply spending time with either of our families, our journey together has brought all of these people into our lives. At the end of the day, the memories with others will last much longer then the taste of victory!