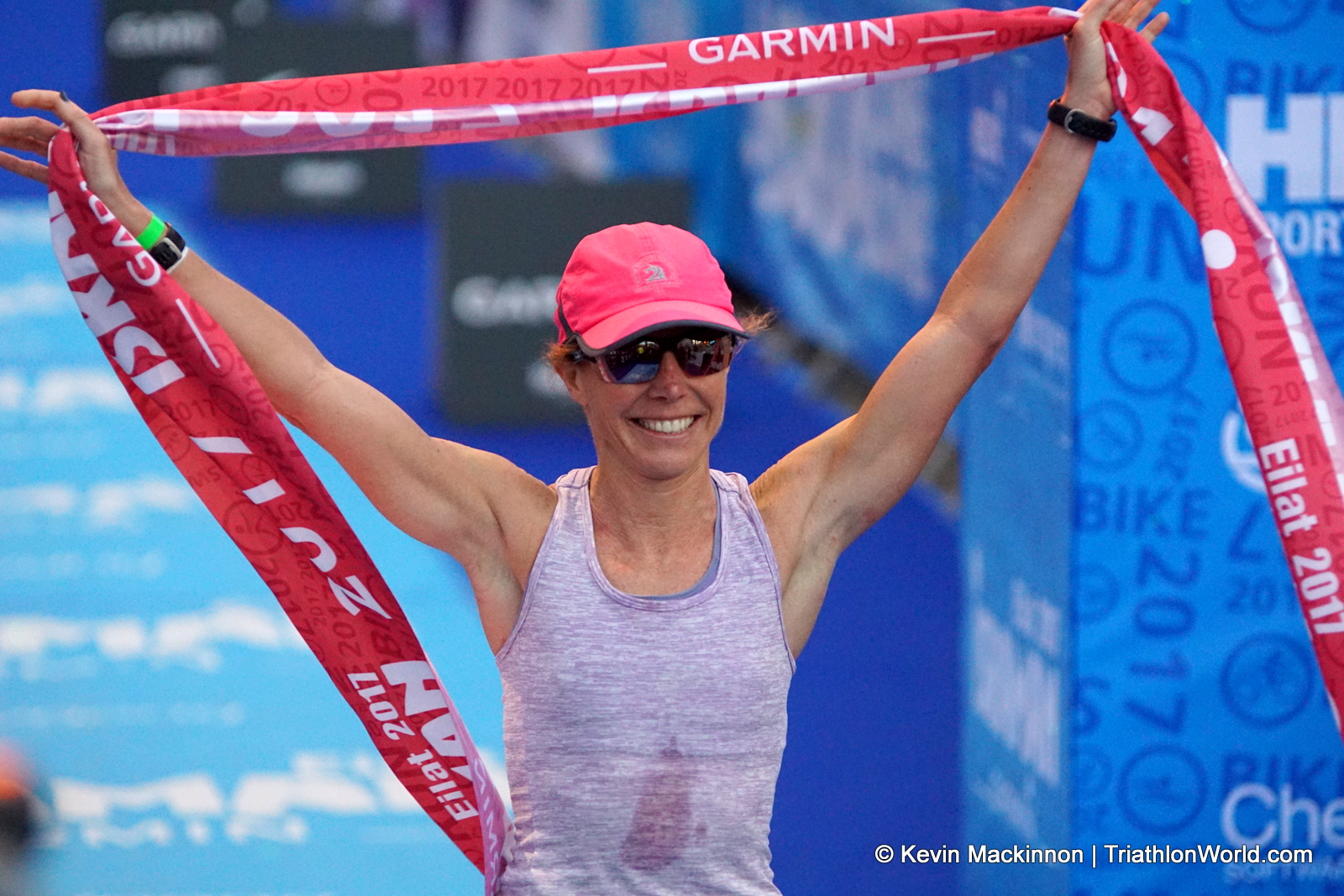 25 Mar

Wassner Twins Start Triathlon Season with a Double Podium Finish

– Laurel Wassner on Israman 2017

Triathlon has brought me to some spectacular places and served up some serious challenges along the way. Yet, nothing has been quite as unique as the Israman Triathlon. The race takes place in Eilat, Israel, which is a 4 hour drive south of Tel Aviv through the Negev Desert. It is situated on Israel's piece of the coast of the Red Sea. Jordan is to the West and Egypt to the East. I traveled with my twin sister, Rebeccah, from New York. We rented a car in Tel Aviv and drove down to Eilat. The ride was beautiful and a preview of what we would face on the bike in the race – lots of lonely hills through the desert.

Our hotel was situated directly across from the transition area and the finish line. This might have been the best part of the race – no parking or logistical issues with shuttles! Everything was in walking distance and in a beautiful beachside resort area. We were treated to some amazing food. I discovered the popular middle eastern breakfast, shakshuka (eggs poached in a sauce of tomatoes, chili peppers, and onions spiced with cumin), among other Israeli dishes. The good thing about long distance triathlon racing is you get to eat a lot the week before!

On race day, we walked over to the swim start. As I stood on the shore of the Red Sea and drank my pre-raceXRCEL I took in the beauty of the sun rising over the mountains of Jordan. The 2.4 mile swim was clear and calm and I was among the first few swimmers to finish. I ran to my bike, changed into several layers of dry clothes and started what would be a 6 hour and 30 minute 112 mile bike ride. I typically do this distance in about 5:15. This race was different. We climbed a mountain and then faced 100 miles of hills and fierce headwinds. The bike finished on top of the mountain, so we never got the speed from going back down. Instead, we ran down! I carried a large water bottle containing 5 bottles of XRCEL on the bike.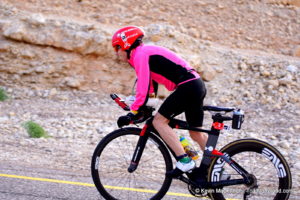 Every 45 minutes to an hour I take a few big gulps. Since this race was a little longer I also had another XRCEL bottle in my bike jersey pocket. I faded a bit towards the end but it wasn't due to lack of fueling. I was just mentally demoralized by a 25mph headwind!
On to the run, I felt great. I got off my bike and sat down for a moment as I drank another Xrcel and stripped down all the layers I had on to keep warm on the bike. I forgot to mention – it was freezing up in those mountains! As soon as I got my running shoes on, my mind went from being to demoralized to ready to crush the marathon. Somehow, my legs responded. Soon I was flying down the mountain. It was very steep and I was running very fast as gravity was taking over. I learned as I got to flat ground after 7 miles of extreme downhill running that my legs, and quads, in particular, were thrashed. I still had 19 miles to go! Those miles were painful. I just focused on when I would be able to drink my next XRCEL – which I spaced out every 30 minutes. I allowed myself to stop and drink and regroup every time. This isn't something I'd typically to in a race but it was my way of just getting to the finish line. I passed my sister to move into 1st place a little before halfway, but winning, or even finishing was not a guarantee. It was that difficult! I just kept focusing on getting my legs to move forward. I felt fine, my stomach was perfect (thanks XRCEL!) and I had tons of energy, but my quads were toast from the downhill. It was a long 3:24 marathon but I made it and broke the tape for my first win of the season and my 10th iron distance finish.
It was an amazing feeling made even better by having my sister Bec cross the line in second place a few minutes later for her first iron distance finish .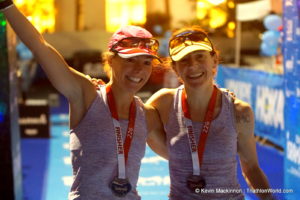 It was really special to meet Bec at the finish line and present her with her medal. She has given me so much and taught me everything I know about triathlon, so it was nice to share this moment with her. Both of us worked so hard to prepare for the race and it was exhilarating for the hard work to pay off.
After the race, Bec and I did some sightseeing and visited the Dead Sea with our triathlete friends. We were so sore that floating was just about all we could do. Now, three weeks later, I am just getting back into training for the rest of the season. I will compete again in April in Lima, Peru.