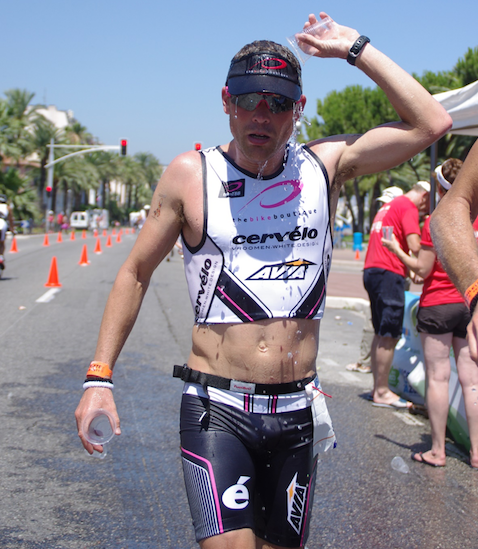 20 Apr

How to Prepare For Hot Races

By Scott Defillipis, Pro Triathlete & Coach

Racing a triathlon in extreme heat (90 degrees Fahrenheit or above) is something that some human beings can handle naturally. These are generally smaller athletes with low sweat rates, athletes that live in warm climates and never have to go through a winter, or very efficient athletes (Miranda Carfrae is a great example). But for the rest of us that don't go so well in the heat, we must prepare weeks before the event or risk having a melt down on the run…(trust me I've been there).

Here are some quick tips to help you get ready for a hot race:

-Get in a sauna! Most local gyms have one. If you don't belong to a gym that has one, see if you can get a trial membership, even if just for a week.  You don't have to camp out in the sauna, but spending 15-30 mins max, 2-3 times a week will expose you to extreme heat which will help you come race day. You can include this as a part of your weekly training routine if time and facilities allow or simply get in a sauna a few times 7-10 days leading into you race.

-Take a sweat test. Precision Hydration offers a free one on their webpage

Most athletes think they are taking on enough sodium but chances are they aren't getting nearly enough as their body requires. For a heavy sweater like myself, even though I am small and efficient like Miranda, I loose so much fluid I have to consume 1000 mg of sodium an hour in hot races or its lights out by the time I get to the run

-To train in heavy clothes or not?  I have seen lots of athletes who live in cooler places, and who are preparing for Kona, overdress for training sessions during the lead up to the big race. Personally, I have never tried this nor do I plan to or instruct the athletes I train to do so…I prefer athletes to maximize their training in comfortable conditions rather than unnecessarily overheat, which could negatively affect your training program.  Having said this, if you have access to a warmer pool (82-86 degrees) to swim in before a hot race, this can be very beneficial for heat adaptation. Be sure to dial back your intensity a good 10-15%.

-Have you tried XRCEL?  XRCEL's Patented micro-gels increase the release rate of glucose when body temperature levels rise during strenuous activity, which in return keeps the core body temperature down… When I first started using XRCEL, the man behind the science, Fred Sexton, had me try it while I was home in NJ during the Christmas Holidays. I was swimming at a local indoor pool which was quiet, warm, 84 degrees. I had a 2 hour swim scheduled, the same 2 hour swim I had done a week before, barely completing.  This time with 2 XRCELs, it was a breeze, and I even swam Lifetime Best Times.

-Preload on Sodium the day before. Take in an extra 1000-1500mg of sodium the day before in the form of added salt to meals, or simply take a few salt pills throughout the day

–Come race day in the heat of the moment:

-Dial your effort level back 10-15%, forget your expectations.

-Don't pay too much attention to watts on the bike (unless you are using it to hold you back).

-If you train with Heart Rate, then use it to keep your level of effort towards the low end of your aerobic zone.

-Forget pace on the run…Simply run your best effort in the given conditions.

-Use ice and sponges to keep your mid-section and lower back cool. If ice is not available then keep pouring water on yourself at each aid station. And don't be afraid to walk through the aid stations to get the fluid in.

-Lastly, don't forget your XRCEL- it helps to regulate your body temperature.  "Never Leave Transition Without It".   

Happy Training and Racing!