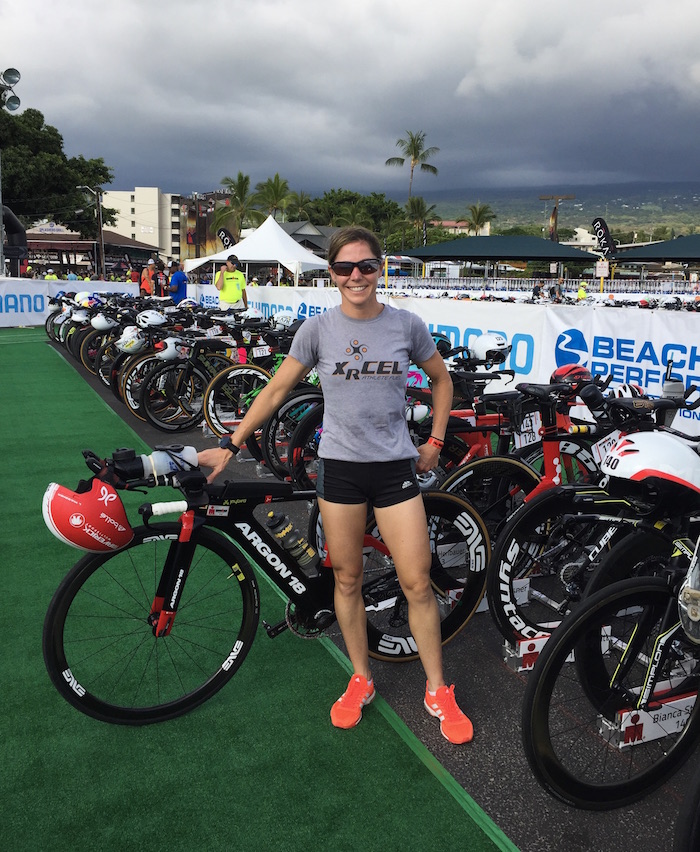 21 May

How to Transition like a Pro

By Laurel Wassner, Pro Triathlete

Most people know of triathlon as a combination of swimming, biking and running.  Knowing how to switch from one sport to the next is a crucial part of the race.  These transitions may be a small percentage of the overall time, but they can be the difference between winning or losing, or getting that Kona slot or missing out by a few seconds.  So, how do you go from swimming to biking and from biking to running as fast as possible?  Try these pro tips:

Transition 1:  Transition from swim to bike

-Scout out the transition area and know where your bike is racked.  Have you ever parked in a garage and then come back from shopping and lost your car and taking forever to find it?  Well, you don't want that to happen in a race!  When you go to rack your bike the day before the race, pick out some landmarks and visual cues to help you navigate the fastest way to your bike.  For example, trees or signs.  Also, make note of how many rows of bikes you have to pass before getting to yours.  It can help to put a bright colored towel or shirt in your area or even on your handle bars. Make sure to do a practice walk through transition so you have this route in your head.

-Just like you practice swimming, biking and running, rehearse your transitions.  Organize and lay out your gear in practice and then do the same thing when you get to the race. Keep in mind that you may have less room when you get to the race site, so be flexible and adapt.

-While you are walking down to the swim start the morning of the race, make sure to take a moment to check out the swim exit and where you will be running to your bike. Keep an eye out for curbs you might have to run over or potholes / places you could trip.  And once again, visualize where you need to be when you are running out of the water.

-Some races offer volunteers to help you strip off your wetsuit. If they offer you help, take it!  Those things can be hard to get off.  One tip is to put sportslick or body glide directly on the wetsuit on the lower leg openings.  Also putting a little on the back of your hands helps getting the sleeves off.

-Rubber band your bike shoes to the bike frame like a pro.  The fastest way to get on your bike and start riding right away is to have your shoes already clipped into your pedals before you jump on the bike. Most triathlon shoes have a loop in the back that can be used to loop a rubber band from there to somewhere (a bolt or screw) on the frame.  You place your feet on top of the shoes and start pedaling and within the first few minutes slide your feet into your shoes and fasten them.  The rubber band will break. If you try this, practice it first!

Transition training can also be fun for everyone from the athlete to their support team…have fun training!

Transition 2:  Transition from biking to running

-Scout out exactly where the dismount line is.  You want to be ready to hop off the bike at the appropriate place and not get a penalty for going over the line.  Just like I mentioned above, do a walk through to navigate the best route to your bike stand.  For example, pass 7 rows and make a left.  If you used a bright colored towel or shirt – look out for it.

-Put elastic laces in your running shoes.  Huge time saver.  Also, roll your socks in to a donut shape so you can easily unroll them and slide them on.

-Have a bottle of XRCEL ready to drink.  Unscrew the cap and then lightly close it, so it will be quicker to drink.  Drink it as you are running through the transition area.

-Also, have a bottle of water with your things. You never know if you'll come off the bike thirsty, or if it's hot it can be handy to have it there to cool you down.

The most important thing about transitions is to stay calm. When you get out of the water, take a deep breath and think about your mental map to your bike.  If you get back to your bike and your things have been knocked around, stay focused and make sure you collect everything you need.  The more focused and calm you are, the more efficient the transition will be.

And, don't forget to practice the details before the race!