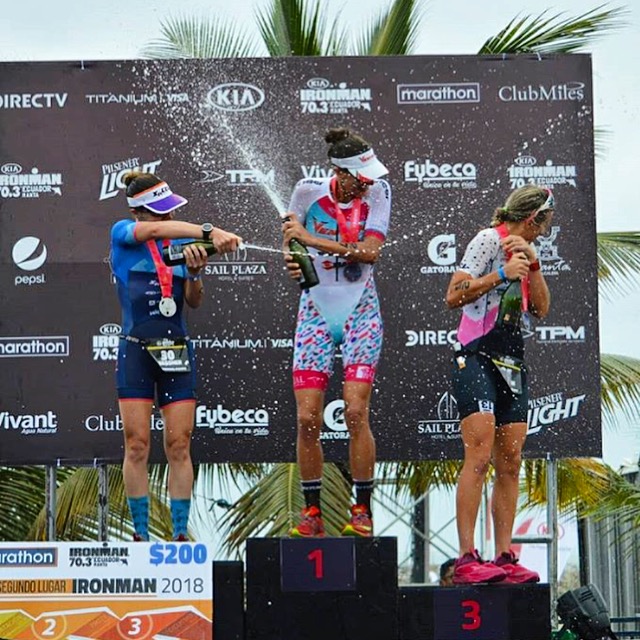 28 Aug

Laurel Wassner's Fueling Plan for a Top Finish at IRONMAN Ecuador 70.3

By Laurel Wassner – Pro Triathlete

Last month I traveled to Manta, Ecuador to race the Ecuador 70.3 triathlon.  I finished on the podium in 2nd place.  I am very happy with my performance, and especially how I successfully executed my race plan.  A large part of that was due to proper fueling.  I believe it is always good to have a plan – which I write down in my journal. I make notes of exactly when I should take my fuel (sips of XRCEL) and drink water throughout the race and rehearse it in my mind the night before the race.  The key is to know the plan, BUT also to be flexible and be able to adapt when things don't go perfectly.

My plan was: 4 bottles of XRCEL in my water bottle on my bike and sports drink in the bottle between my aerobars. I alternated sips of drinks with large swallows of XRCEL every 35 minutes.  All went perfectly until 40 miles into the 56 mile bike ride when I grabbed my bottle and simultaneously came upon a very rough stretch of pavement. I was so afraid of dropping my precious XRCEL (knowing I needed that last 1/4 bottle for energy for the run), that I held on to it rather than steer my bike! A few seconds later I realized I definitely needed both hands on my bars and realized it was either me or the bottle…so the bottle rolled to the side of the road.  I momentarily panicked about not having my trusty fuel, but I reminded myself that XRCEL is time released, that I already had gotten a lot in, and that I could supplement with the nutrition they provide on the run course. Instead of getting down about it, or distracted, I just carried on.  It wasn't ideal and I probably didn't have the pep in my step I might have had, but I was still able to finish very strong with the fastest half marathon of the day.
It's important to have a plan, but also to be able to come up with a plan B if you need to.
In addition to fueling properly on race day, it is equally important to eat the right things in the days leading up to the race.  Everyone is different, but for me that means extra carbs, mostly in the form of rice. However, in Ecuador, a staple food is plantains, which was also a great way to fuel.  I had all sorts of plantains: mashed, chips, in the form of a "bolon".
Fortunately, I had many new Ecuadorian friends to translate the menus for me and help me pick out the local specialties.
Manta is known for tuna fishing and has a giant fish market we ran and rode by.  Another memorable meal was the freshest tuna (served seared with steamed veggies) I have ever had. This combination worked and I felt great on race day.
Having a plan, and also being able adaptable is the key to executing a successful race. Next time, I'll look ahead on the road to make sure the pavement is smooth before taking a drink!