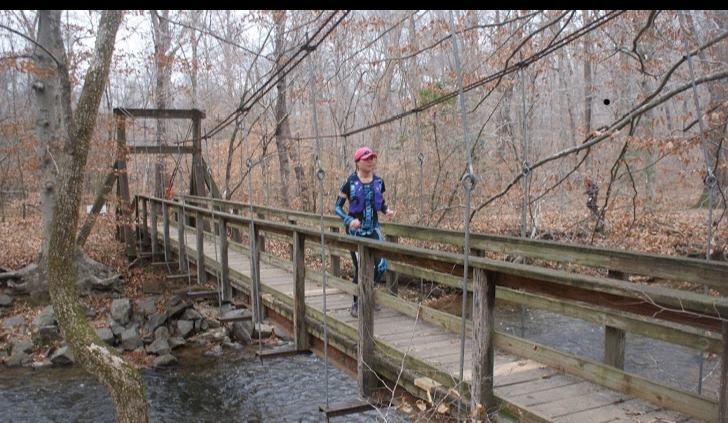 08 Jan

Maggie Poniatowski: Drive, Determination, and Going the Distance

Many women today, unfortunately, do not feel like themselves after pregnancy and giving birth. With extra pounds, lack of sleep, and round-the-clock running around to take care of a newborn, it's easy for many new moms to get lost in the depths of motherhood. Maggie Poniatowski found herself struggling with postpartum depression and weight gain, but, instead of letting it ruin her life, she decided to run towards a new way of life. Poniatowski took on the challenge of training and racing her first marathon and has never looked back. Now, an avid runner, our XRCEL ambassador is tackling ultra-marathons, triathlons, and a healthy lifestyle. Check out how this mom-of-two balances training, nutrition, and the joy of family in our latest XRCEL blog. 

XRCEL: How did you first get started in running?

Maggie Poniatowski: I started running later in life at the age of 32, shortly after giving birth to my first child.  I had been struggling with weight gain and postpartum depression when my older brother, John, promised me that I would feel better and get in shape quickly if I tried running.  This sounded easy enough until he dared me to sign up for a marathon.  At the time, I couldn't fathom running one mile, let alone 26.2, but I can't resist a dare and I signed up for the Ocean Drive Marathon on one condition – John would have to run it with me.  I'm proud to say that six months later, I completed my first marathon in 4:17, which was five minutes under my goal.  Admittedly, it was more painful than giving birth, but crossing the finish line was amazing!  Happy as a clown, and 50 pounds lighter, I was a running addict.  I kept running and  competed in my first of many triathlons and even signed up to run the Philadelphia Marathon.

How did you morph into participating in triathlons? 

I was a competitive swimmer in high school and college, but triathlon wasn't a big sport back then. At the start of my first marathon, I was chatting with a group of women who were running the race together. It was my first encounter with a "running group" and I was surprised to hear that in addition to running marathons together, they also competed in triathlons together. They laughed when I asked, "don't you have to be an elite athlete to enter a triathlon.?" Back then, I'd never heard of a triathlon shorter that 140.6 miles. I quickly learned about sprint and women-only triathlons and they assured me that if I could swim, a sprint triathlon would be a walk in the park. Within a week I bought an inexpensive road bike and signed up for a three local sprint triathlons; Vincentown, the Philadelphia Women's Sprint, and She-Rox Philly. In true beginner fashion, I bought a Book called The 12-Week Triathlete and followed a beginner's training plan. My first event was Vincentown and I ended up placing in my age group. I knew right away that I wanted to try a longer distance, so I signed up for two Olympic distance races. After the tri-season, I ran the Philly Marathon, but soon after, I ended up taking time off from racing to have another child. I had my second son in September of 2010 and signed up for a half Ironman in May of 2011. It was a great way to hold myself accountable to training and to getting back into race shape.

How do you balance racing triathlons and running races throughout the year?

I have a hard time saying "no" to pacing gigs and destination runs. I am fortunate and blessed to have no concerning injuries to hold me back and I generally recover fast from ultras by incorporating a lot of yoga and strength training. I am disciplined when it comes to Iron distance triathlons and 100-mile ultras because I stick to my rule of "one a year." Once my Ironman and 100 are scheduled, I will race just about any distance,as long as it's not right before or after one of the main events. Sometimes I feel lost on the few weekends I'm not participating in a race.

How do you think racing triathlons has helped your running?

I am fortunate to have found triathlon because the cross training keeps me free from injury. After an ultramarathon, I can easily recover my legs and keep cardiovascular fitness by swimming and cycling. For me, swimming and cycling drills are just as effective for my running speed as track-work!

What prompted you to run your first ultra race?

In 2015 a friend offered me a free race entry for a back-to-back marathon called Two Rivers in Lackawaxen, PA. I would be running the same marathon twice in the same weekend. I really didn't think it was possible, but since it was free, I thought I'd give it a try just to see if I was capable of finishing. To my surprise, I ran the same time for both marathons (4:08 on Saturday and Sunday) and walked away feeling fine. I called my brother to tell him what I'd done and he said, "that's great, now it's time for an ultramarathon." He had already run several ultra's, including the Rocky Raccoon and he assured me that a 50-miler in one day would be easier than back-to-back marathons. I started searching for my next challenge and ended up running a fatass in Phildelphia call the Turtle Trail 50 that started on the Philadelphia Art Museum steps and took the Schuykill River Trail 25 miles out to Valley Forge and back.It turned out to be one of the best experiences and when I called my brother to tell him about my experience, he asked, " which 100-miler are you going to sign up for?" And so, my search began for a good "starter" 100.

What do you do to properly prepare for a 100-mile race?

I don't have a specific training plan because I generally run long every weekend. However, Twelve weeks out from an ultra, I aim for a 70-mile week and run B2B long runs on weekends with limited sleep. For instance, I'll run a marathon on Saturday, but eat as if it was a normal 2000-calorie day, sleep five hours or less, and run 20-plus miles on Sunday. I think it's important to simulate the feeling a fatigue to prepare for the big event. I follow an 80/20 diet – 80% clean, natural, and plant based and the other 20% isn't perfect as I enjoy my post run beer, pizza, and chocolate!

How do you use XRCEL when you race an ultra?

I use XRCEL during every race, regardless of distance and take my first bottle ten minutes prior to the start. For 5Ks and 10Ks, one bottle is all I need, but for longer distances, I have enough on hand to take about one bottle an hour to keep the effects going. I carry a 16 ounce flask of XRCEL during marathons and usually have a friend planted on the course with extras. For ultramarathons, I have a few bottles in every drop bag and carry a bottle in my vest at all times.

What benefits does XRCEL have for you when you are racing and training?

At times I forget to take nutrition, which can be dangerous. Other supplements take a while to hit the bloodstream and are difficult to digest, but XRCEL is the opposite. It hits me quickly and is longlasting. I almost feel the energy instantly and it lasts. The best part is that it digests easily, so there are no tummy issues with XRCEL!

What attracted you to racing the Devil Dog 100-miler?

I wish I had a clever response, but I picked the race because it was close drive and I read that the course was challenging, but not sadistic. I like to be able to "run" during ultras and there are a lot of races out there that make it impossible to run due to the technicality of the course. Devil Dog turned out to be a lot harder than expected. It took me 31 hours and every ounce of willpower to complete. It is by far my best endurance accomplishment yet. The freezing cold, contsant downpour throughout the night nearly broke me. By the last 20- mile loop, the course had turned into a deep muddy swamp!

What are some of the biggest challenges you have faced while racing or training for such tough races?

My first 100-miler prepared me well for future ultras. I thought I was prepared in 2016 for the Pine Creek Challenge, but I went out way too fast and ended up with a knee injury at mile 62. It was also 100 degrees with no shade and I'd been unable to hold down food (my pre-XRCEL days). Determined to finish, I limped for 15 hours/38 miles and finished the run in 27 hours. I wouldn't have finished if my brother hadn't flown out from Washington state to pace me those last 38 miles. He was the reason I signed up and finished the race. That whole experience tested my mind, body, and soul. Luckily, I recovered from my injury, but any right-minded person would have probably stopped at 100km. My challenge is my stubbornness and I'm afraid I'll never know when I truly need to quit.

What does your family think of your racing and how do they play a part in your success?

My kids don't quite get it yet because they are only eight and ten and they just know that I like to run. My husband understands that I need endurance sports to live. I cannot start my day without a run, swim, or spin class. Cardio has and always will be my drug of choice. I get my training done before my family gets out of bed so that I can be there when they are awake. My husband is the most supportive person and even though he may not come out to all my races, he allows me the time the "do my thing." If I'm traveling for a race more than two to three days, I bring my family with me and we make a vacation out of it! My eight year old is starting to become interested in running, so I may have to give up some weekend races in the future to support him. Nothing would make me happier than to have another runner in the family!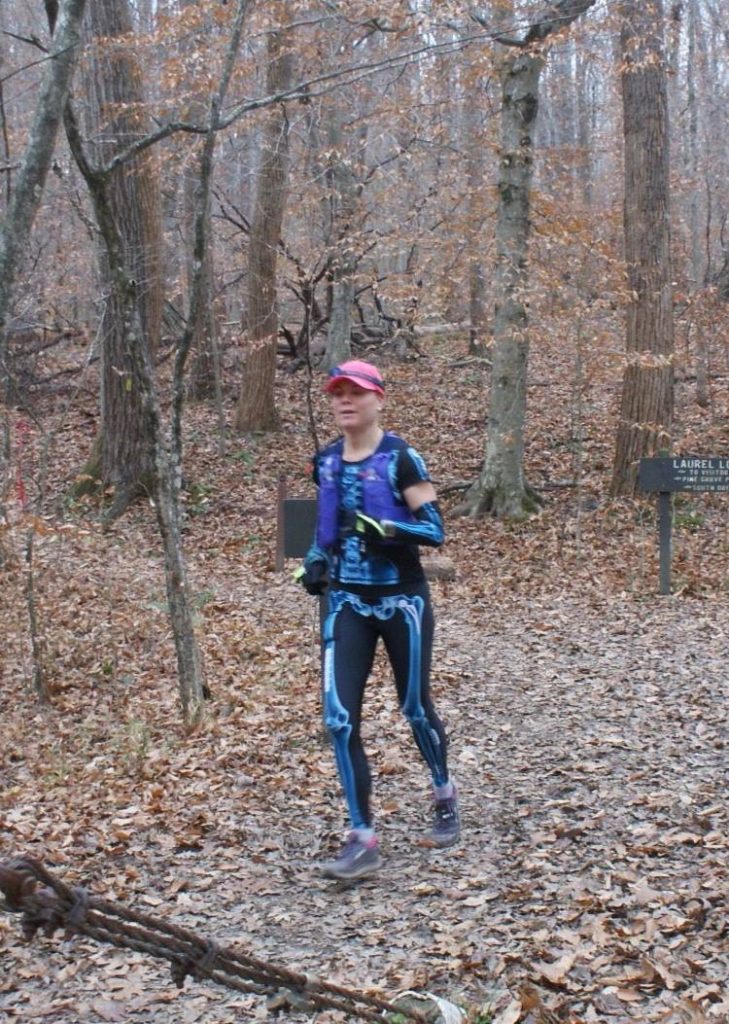 How do you balance and juggle your family and personal life with your training and racing?
To be honest, I get 6 hours of sleep on a good night. I have a bit of insomnia and I do a lot of cleaning and email catch-up in the middle of the night. I don't watch TV and I've swapped reading for audiobooks that I can listen to while training.
What advice do you wish you had before you raced your first 100-miler?
I was given this advice many times and I didn't take it initially, but don't go out too fast. I know this now and live by it!
What is next on your race calendar?
I've signed up for the Georgia Jewel 100-miler in September 2019 in Dalton, GA. The course is challenging as there is more elevation than Devil Dog and their swag is super cool. I will sign up for any race if they have a cool trucker hat!
What's your proudest accomplishment to date and why?
The Devil Dog 100-miler! Just finishing that race took everything out of me.
What's your favorite part about training or racing?
Every day I get a sense of accomplishment after my workouts and I always give it my all. The endorphins are a nice bonus, but the best part is that I get to train with my best friends. Triathlon and running may be individual sports, but training with my best friends is a blast!
How does your mental toughness play a role in training and racing for a 100 miler?
I owe my mental toughness to my mom. I was never coddled growing up and grew up with her motto "suck it up buttercup." I was raised with a mindset that nothing comes easy. While this may not be entirely true, I believe that ultimate bliss only comes from earning something. When things get rough, I envision the reward at the end whether it's a medal, beer, pizza, massage, nap, or a hug from my boys. All of these little things are so much more enjoyable after accomplishing a difficult task. Work hard, play hard, and enjoy the spoils when they come.