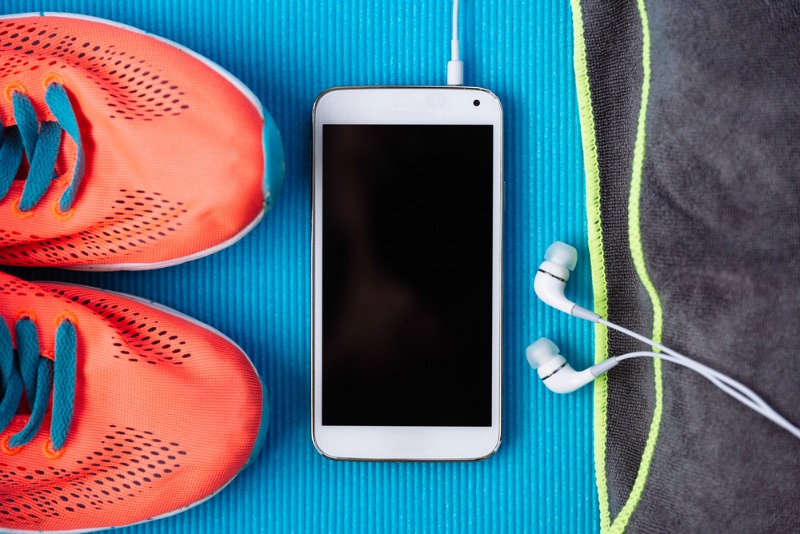 18 Mar

Top 10 Fitness Apps For Every Athlete

It's no secret that most of us do our best to find time to squeeze in workouts around work, family, friends, and other life commitments. However, thanks to technology, there are many apps that allow finding time to incorporate fitness into our daily routines a lot easier! Here are our Top 10 Must-Have apps for anyone who is on the go, enjoys working out in the privacy of their own home, or likes to mix up their workouts. Here's to a fit 2016 wherever you go!

1. Map My Run:

Do you want to know where you are running or what routes you have previously run? Then you need Map My Run! With the free app's GPS, it's easy to record both your distance and your route, but even more exciting, it can help you find a running route if you are in an unfamiliar area. This app is great to have when you are on vacation or on a work trip and need to get out and go for a run. Map My Run allows you to log and track your workouts so you can reach your running goals with ease. This is a no-brainer, best app for any runner looking to track their miles, pace, and improvements.

2. Map My Ride:

Just like it's free sister app, Map My Run, Map My Ride allows a cyclist to record their routes thanks to the built-in GPS on your mobile device. It records your workout details, including distance, duration, pace, elevation, speed and calories burned. The interactive map allows riders to upload and save their workout data and keep an organized riding history. This is a great app for any cyclist who likes to see where they're going as well as where they have been.

3. Strava:

Do you want to treat every day like race day? If so, Strava is a great free app for any runner or cyclist with a healthy appetite for competition. With Strava, you can record your running or riding details with the GPS, upload your activity from a device, and then view your results in detail. Where the real fun comes in is that you can compare your efforts against your past efforts as well as other athletes who have run or ridden the same routes. You can see where you rank and try to move up as the fastest athlete wherever you run or ride. There are also ongoing run and ride challenges you can join through Strava to help you reach new goals and get ready for race day.

4. MyFitnessPal:

Is it time to clean up your eating? Want to lose weight this race season? Then the free app, MyFitnessPal, is what you need to have your fittest season yet. As you start, MyFitnessPal will help you set your food and weight goals, allowing you to easily adjust everything as your body changes. It also allows you to track all the food and beverages you consume, while showing you the nutritional details so you have a clear picture of the macro and micronutrients you are putting in your body. Best of all, you can scan the barcode on your food at home as well as put in items at most restaurants to keep an accurate log of all of your nutritional values. It's easy to add in exercise you have completed too, which allows you to count the calories you take in versus the calories you burn off. Overall, this is an awesome app for any foodie, health nut, or person on a mission to lose or gain weight.

5. Swim Radar:

Whether you are a competitive swimmer, triathlete or somebody that wants to get in a swim workout while traveling, Swim Radar will help you find the perfect spot. The swimming locations are researched for accuracy and kept up to date through monitoring and feedback from our swimming community. With over 17,000 locations around the world, finding a swim location is a touch away and can help you get in a swim workout whether you are traveling for business or on vacation.  You can even bookmark your favorite locations and share these locations with your friends as well as add notes about each swim location. Swim training has never been easier with Swim Radar.

6. Hot5Fitness:

You will no longer use the "I have no time" excuse thanks to this awesome app.  Hot5Fitness offers a variety of teachers and routines, ranging from cardio and yoga to Pilates, CrossFit, and traditional strength training. Mobilizes the convenience of exercise DVDs by making 5-minute exercise videos available on your smartphone. Because it's available on your phone, you don't need an Internet connection to access its content. That means you can bring it to the gym, a hotel, or a friend's house without worrying about whether or not you can find Wi-Fi. The workout options are endless and the effective workouts you get in just 5 minutes are easy for anyone's lifestyle.

7. Fit Radio:

For only $4 a month, $28 a year, or $80 for a lifetime membership, the Fit Radio app will keep you movin' and groovin' through any workout. Fit Radio has an array of workout-specific mixes to choose from as well as new mixes each day and a tap-and-play set up that doesn't require any of your time to create a playlist. You can even find a mix that keeps the BPM (beats per minute) and continuous rhythm you need for a specific workout, such as a cycling session. The free version offers 3-6 mixes per genre or you can buy the premium package that allows you to access the full catalog of music mixes. No matter which option you choose, you are sure to get lost in the great tracks during your workout.

8. DailyBurn:

From Dance Aerobics to Kettlebells and Yoga, you'll get unparalleled variety. The Daily Burn's app has a vast array of workouts that will never get boring and will always have a new workout option to test out. No matter where you are, you can get access to your Daily Burn workouts since all you need is an internet connection. With unique philosophies and personalities, the team of professional expert trainers will keep you engaged and get you faster results while having fun. For only $12.95 a month, you can workout with a trainer whenever you want and have unlimited workouts available 24/7.  There is a 30-day free trial period so give it a whirl!

9. Simply Yoga:

For all of you Namaste-types, Simply Yoga is one of the best, and most popular, yoga apps because it's free and it lets you start your routines immediately. It's not bogged down with features, settings, and additional information. Instead, it provides a stripped down menu of session duration and workout routine. The best part of the workouts provided in this app is that they work out the entire body so you are sure to get results while feeling great. No matter what your yoga experience may be or how much time you have available, you can pick from a 20, 40, or 60 minute routine. With Simply Yoga, you are sure to have a simply good workout.

10. Peloton:

When it comes to breaking the fitness app molds, the Peloton Cycle app is King! Peloton cycle is one of the most convenient apps for you and your lifestyle. Pick the time of day, the style of class, and the instructor and jump on your Peloton bike, or indoor training bike, in the comfort of your own home while getting out of your cycling comfort zone. With Peloton, you're in charge of your workouts while still getting the encouragement and stimulus of being in a live class. This is a perfect way to work out for anyone with a busy lifestyle, or even someone who is nursing an injury and needs a little extra motivation from one of the many amazing instructors. You will only get fitter and have more fun with the Peloton Cycle app!

The best way to get more out of your workouts and recover faster is to be sure you are properly fueled before, during, and after your sessions. XRCEL Athlete Fuel is the only product that provides immediate and extended release carbohydrates (glucose) to keep your muscles pumping and your brain focused during your workouts. XRCEL also helps speed glycogen recovery post workout so you can be ready for your next session.

Get more out of your training sessions – use XRCEL Athlete Fuel.